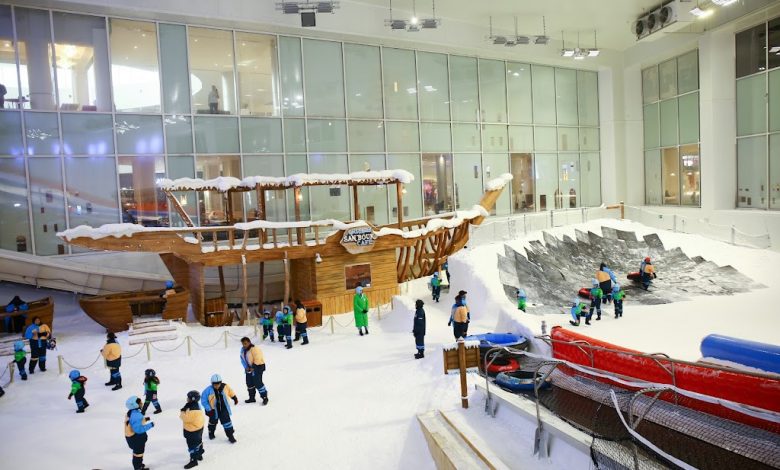 A family vacation entails planning an adventure, fun, and thrilling vacation. Qatar has a number of theme parks, entertainment zones, and attractions that will provide you with the thrill and frill you need for an exciting time with family and friends. While the country is well-known for its culture, heritage, and excellent architecture, attractions such as Snow Dunes Qatar provide fun and entertainment. Doha Festival City (DHFC), Qatar's iconic shopping destination and one of the country's largest malls, is home to a world-class park known as Snow Dunes Qatar. The park, one of the best in the country, provides the chills of a snowy region in a desert landscape. The Snow Dunes is well-known as a haven for children and families visiting Doha Festival City. Get ready for an enthralling snow experience in Qatar, where you can enjoy top adventures and exhilarating games. Here are some interesting things to know about this fun-filled place. 
Have an ice party
Qatar's Snow Dunes Theme Park is the ideal location for an ice party and a fun day with friends or family. The magic box will allow you to throw a spectacular party for your family and peers, specifically to brighten and entertain your day. Your private party in a cool and relaxing setting can be more exciting than it appears. Snow Dunes' ice party package Doha Festival City is well-designed for those looking to host the year's most unique and exciting party in a unique setting. It is best to make your reservations ahead of time, and this is one of the most popular activities in Doha to enjoy with your friends. Magic Box's party package accommodates 10 to 40 people at a time for the best party experience. This amount is sufficient to host a private party within your estimated budget. To make it more exciting, you should make a reasonable guest list. The package you purchase will be valid for only two hours, but if you need more time, contact the reservation department directly.
Different attractions 
Snow Dunes in Doha Festival City has some of the best things to do in Qatar to keep you entertained all day. The theme park is a complete entertainment zone, with the best rides, games, and a variety of other activities. Tighten your belts, put on your gear, and prepare for an exciting and interesting day.
At 50 metres in height, Dune Dash is the park's longest slide. While playing Dune Dash, visitors can slide their way through the park. Snow Storm is another thrilling slide that takes you all the way down Visitors are sure to encounter a raging storm. The Snow Slide is one of the best rides to enjoy at the Snow Dunes Qatar. It is covered in snow and is one of the best rides to enjoy at the park. We have all heard of dune bashing and the thrills it entails, right? Now you can go tubing through the snowy hillocks while bashing on the White Dunes. Climb and conquer to experience an action-packed expedition to the top of Snowy Mount. Snow Motion has the best rides for your kids, from thrilling adventures to the traditional merry-go-round. The ice adds to the excitement and thrill of the experience. The magic box at Snow Ring is an absolute must-have for your next party. The magic box has everything you need to have a memorable experience. Experience an exciting indoor wall climbing activity at Castle Climbing that packs an aerobic punch and an endorphin rush at temperatures below freezing. Enjoy a thrilling ride in our snow bumper cars at Snow Ring.
Scrumptious eateries
One of the most popular attraction in the Doha Festival Mall is San Bouk. Nothing beats the fun and pleasure of sipping fine drinks and nibbling on delicious treats in a relaxing setting. Visitors to Sand Dunes Park can enjoy the best drinks and refreshments at the San Bouk.
Located in the park, the Snow Dunes Restaurant is one of the best places to enjoy hot drinks and a variety of desserts. Visitors are treated to the finest snacks in a beautiful setting.
Offering luxurious facilities 
Aside from adventure and fun, the Snow Dunes theme park has a lot to offer. The theme park has introduced a luxury concept of VIP rooms to provide visitors with a luxurious experience. These rooms at the Snow Dunes are perfectly designed to offer you quality time for absolute leisure and lavish treatment. The VIP Rooms at Snow Dunes can accommodate up to six people at a time and provide every luxury and comfort. The rooms are spacious and have a luxurious touch of quality design and a relaxing ambiance. The VIP room's private seating lounge area is ideal for your leisure. As with any luxury hotel in Doha, proper furnishing is done to ensure complete leisure and comfort. When it comes to amenities and comfort, the room has it all, including cable television and gaming for the kids' entertainment. Visitors are advised to reserve a VIP room in advance because they are very popular and only available for a limited time. 
Packages offered by them
Qatar Snow Dunes provides guests with four different packages. Each package is tailored to a specific preference or event. Here's what you should know. The Gold Package at Snow Dunes Park is a medium-priced package with a three-hour play time. Guests have access to one locker room and can enjoy rides such as Slope, Snow Motion, Snow Slide, and Dune Dash. It is worth noting that some of the rides are only available once with the Gold Package. The Platinum Package, one of the top packages available to guests at the Snow Dunes Qatar, provides guests with unlimited play time, so there are now bars to enjoy. Guests are granted access to the venue's VIP lounge as well as unlimited access to all rides. The enriching Arabian Coffee and Tea, as well as the park's private Queue Lines, are included in the package. The Silver Package at Qatar's Snow Dunes Park includes two hours of play time as well as access to the locker room. At the park, visitors can enjoy rides such as the Slope, Cold Slide, Carousel, and the Dual Racer Ride.