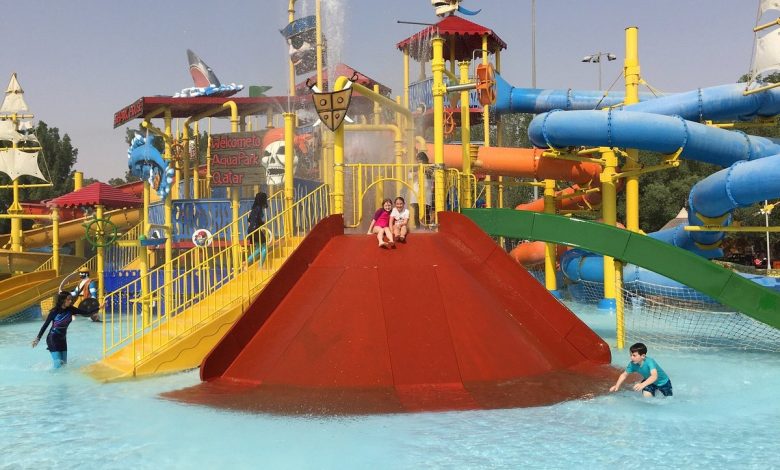 Doha is a great location for adventure and entertainment, and it is home to several amazing attractions including Qatar's Aqua Park. Where Doha is known for its intriguing history and colourful culture, these tourist destinations, including as theme parks and other amusement areas, allow visitors to spice up their vacation with excitement and adventure. The Aqua Park provides you with an unending rush with water rides and activities while also providing a getaway from the scorching, sunny desert to a cool, adventurous area. Aqua Park, the nation's first water theme park, is a popular destination for tourists, and here are the reasons.
Attractions and entertaining locations
The first water park in Qatar, Aqua Park is spread out over 50,000 square metres and provides a large area for an exciting day. The park features a variety of specific games and events that are designed to entice visitors with the best water-based activities. The park is a well-liked destination where you may spend the day with family and friends because of its wave pool, long river, water slides, and many other attractions. During your day excursion to the water theme park, you must tour the park's many attractions and entertaining locations. Lazy River will take you on a journey to feel the spectacular thrill is the 200-meter-long river. You can snorkel or take a sunbath in the enormous Wave Pool's captivating water waves. The pool has six patterns with a total of six varying intensities to improve the experience. Indeed, the best activities are planned for this sea for your maximum enjoyment. Lagoon Pool is one of the greatest places to spend free time if you just want to unwind and enjoy the lively atmosphere. This area of Aqua Park in Doha, Qatar, is perfect for families because it is bordered with eateries and has a pool. In the most tranquil and serene environment, the Jacuzzi Cave is the perfect place to unwind and take a break from all hassles. To enjoy a relaxing time drifting among the calm waves, all you need is a tube. With your children, explore Africa in Qatar at the African Village, which is built with slides in the form of animals and showers in the form of mushrooms in a large playground. There are elephants and giraffes that squirt water, specifically for the enjoyment of children. Find out what makes the Boomerango a fun attraction in this water park in Qatar by experiencing the thrill of all those spins and twists. The trip will begin with some of the exhilarating twists and dips, those steep turns before you plunge into the pool. You must not miss the Speed Lines, a Formula 1 water race. The first surfing half pine ride in the world is the one and only Stingray Surf machine in Qatar. The exciting pastime is made more daring and exhilarating by the 90-degree curved walls. The Slipper Tubes is a tower similar to the space ship that will lower you into a big water-filled tub. Prepare yourself with the Space Boat at Aqua Park Qatar in Doha for the trip from space to Earth. You go 20 metres down this vibrant tunnel with curves and twists before splashing into the large water basin at the end. With the Kids Pirate Bay, an aquatic theme park featuring pirates, you can let your youngster live out every fantasy with the colourfully designed slides and tipping bucket, big enough to dump 2,000 gallons of water. The Bumper Boats are similar to underwater bumper cars. The most exciting attraction for children in the park is these colourful boats, where they may race other visitors while drifting along in their own boat car. With the help of an instructive trip at Kids Driving School, your youngster may learn safe driving habits while having fun.
Several facilities at the park
The park has restrooms, gift shops, and dining options. The best eateries and kiosks can be found in the Aqua Park Qatar's dedicated food court. With your family, you can receive the greatest juice and revitalising drinks while also enjoying a fast snack. You have a variety of cuisine choices at these restaurants in Qatar, from pizza to specialty drinks and snacks. At the water theme park in Qatar, you can discover shops where you can buy toys and even casual t-shirts for your children. There is a mini-market with a sizable retail selection of presents. And lastly, the restrooms to ensure comfort and cleanliness. The park provides restrooms, lockers, and changing areas so you may enjoy yourself and return to your hotel or home feeling pleased and refreshed. 400 lockers have been set aside to protect the treasures.
Celebrating special occasions
The Aqua Park serves as a centre for festivities and fun. The Park provides a list of special Ladies' Day and Family Day events in Qatar. Even if this is an attempt to draw more visitors, you may still save money on Aqua Park Qatar tickets. The best family-friendly games are organised as part of the family day. To learn about such events before making plans, get in touch with the park administration.
Safety Measures
One of the top attractions is Aqua Park, which is next to Retaj Salwa resort and spa, the most opulent hotel in Qatar. The hotel welcomes guests from all backgrounds, but each person is responsible for their own safety and for respecting others' personal space. Being a public area, there are guidelines and standards for every guest to ensure they have a great experience. The management of Qatar's Aqua Theme Park is attempting to make it a safer environment for everyone, not just the guests.
Location to reach
The park is located across from the Abu Nakhla gas station on the Salwa road. From the industrial area, go around a roundabout; it is about 16 miles away.