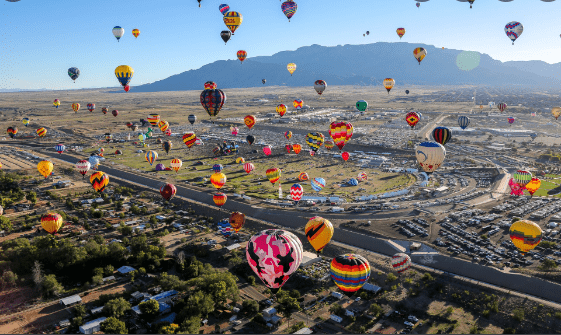 Admiring a balloon as it gravely soars into the air, secure in its passage through the wind, has a peculiar quality. In the clouds, a hot air balloon appears as a sign of optimism. The possibility will be magnified to the most powerful at a hot air balloon festival. When you fly a balloon, you will experience how wonderful it is to soar over the sky like a bird. Balloons are very gorgeous and colorful. With hot air balloons filling the sky every morning and a variety of additional entertainment, the Qatar Balloon Festival will be without a doubt one of the highlights of the year. The third edition of the Qatar Balloon Festival is a ten-day, family-friendly festival from 19 January 2023 to 28 January 2023 with a stunningly colored show including more than 50 hot air balloons from across the globe.
Balloon launches at dawn
The dawn launches will take place at sunrise, as the name implies, so if you don't want to miss them, get up a little early and either watch the skies or join us at our take-off locations to see over 50 balloons launch.
Floating balloons
You will get the chance to see a hot air balloon that has been expertly tethered and fastened to the ground while it is floating just above you, all while taking in the performances, dining in delectable foods from various cuisines, and seeing your kids have fun at the gaming section. The tethered balloons are equally intriguing and engaging.
Illuminated balloons at night
Enjoy a one-of-a-kind sighting of illuminated balloons stacked next to one another as the sun sets over Doha and the celebrations continue. The pilots will assure you that they are glowing in the dark in perfect rhythm with the festival's musical events from the main stage, creating a lovely vibrant atmosphere and an experience like no other.
Entertaining performances
The festival never disappoints, and this year a wide range of artists, music bands, DJs, and vocalists are expected to wow fans during the course of the 10-day event. To offer entertainment and improve the entire festival experience for attendees, a large lineup of singers, music bands/groups, dancers, magicians, DJs, violinists, mascots, jugglers, and other performers has been organized.
Playground arena
Both children and adults may have fun playing a variety of various activities in a dedicated area set aside for the festival. The location will include a variety of games, including carnival games, team games, football darts, human football, virtual reality games, themed jumping houses, and slides. There is something for everyone to try out, regardless of age.
Eateries for foodies
The event will provide a wide variety of food options, which will be accessible at several kiosks and trucks spread out over the arena, making it twice as enjoyable for foodies.