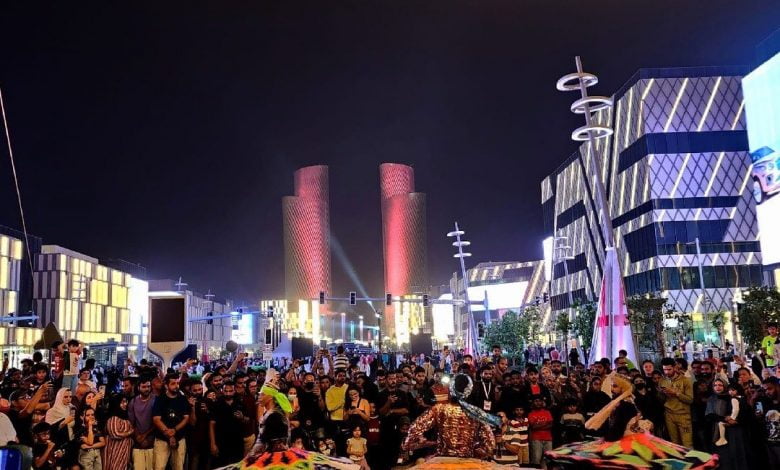 Downtown Lusail's Lusail Boulevard vividly depicts a classic example of contemporary urban design that is harmoniously woven into Qatar's diverse cultural heritage. Downtown Lusail's defining experience is realised on Lusail Boulevard, a vibrant, varied, and distinctive shopping, business, and residential attraction.
The 1.3-kilometer-long Lusail Boulevard beats with energy and serves as the city's heartbeat. It consists of a variety of elaborately planned and well-constructed mixed-use, upmarket shops, offices, and first-rate residential apartments, all meeting the highest standards of excellence in the world. Numerous dining and retail options are spread out across the area, providing locals and tourists with distinctive high-street lifestyles and recreational opportunities.
Well crafted architecture
The Avenue des Champs-Élysées, an avenue fueled by upscale retail, leisure, and cultural activities with a GFA of 250,000 sqm, served as the inspiration for its public realm, scale, and architectural design. Lusail Boulevard is one of 19 districts that make up Qatar's self-contained and meticulously designed Lusail City, which is situated 23 kilometres north of the Doha city centre. Beautiful mid-rise waterfront residential properties, premier high-rise office buildings, a 'go-to' retail centre, and a bustling hospitality district are all found within its enormous 760,000 square metres of gross floor space. Its master design also features a Lusail City roadway, a sizable yet complete Light Rail network, and iconic bridges that link the various districts. It was developed as the "City of Tomorrow" in accordance with the Qatar National Vision 2030 and is currently a premier travel destination that fans of the FIFA World Cup Qatar 2022TM. The urban architecture of the commercial sector is carefully planned for pedestrian street shopping and dining, and it facilitates mobility by connecting to an underground car park that will offer 2,000 parking places.
Stunning 3D screens
The 3D screen is one of Lusail Boulevard's most stunning features. Any visitor to Qatar must view the Lusail 3D Screens. These enormous LCD panel panels, installed in the buildings along Lusail Boulevard, show beautiful 3D animations and commercials. The animations give the impression that you are gazing at things in real life. Visitors may fully immerse themselves in the information being presented thanks to the utilisation of cutting-edge technologies like virtual reality and augmented reality. The Lusail 3D Screen Buildings are a significant addition to Qatar's expanding collection of tourist destinations. Look forward to the striking lion that appears to be walking into Lusail Boulevard as it comes to life.
Famous restaurants and cafes
Lusail Boulevard, the city's newest entertainment district, is a must-see destination with a variety of eateries throughout its length. Visitors may pick from a variety of restaurants on Lusail Boulevard. From simple eating establishments to opulent cafés. There are also a number of business establishments in the vicinity. Many of the eateries on Lusail Boulevard have already opened, but some have yet to do so. Famous establishments like Maia, Starbucks, Karaki Lounge, Horatii, Nando's, Hustle N Flow, and many others are present.
Retail outlets
At Lusail Boulevard, there are already a lot of shops open that sell everything from children's toys to eyeglasses, perfumes, and more. If you enjoy keeping up with current fashion trends or just want to buy new clothes for your small children, Lusail Boulevard should be your destination. Search for the accessories in the shops to round off your new look. Shops that offer shoes, jewelry, and various fashion items are usually well-liked, especially those that target youngsters. Electronics are sold at technology stores in Lusail Boulevard whether you need a new smartphone, tablet, laptop, television, or stereo system. Toys for kids of all ages may be found in plenty in toy stores.
Location
One of the most popular tourist destinations in Lusail is Lusail Boulevard. The distance between Lusail city and Doha is around 25 kilometres. This area is attractively landscaped, contains trees, and has excellent city planning. There are various simple methods to get to Lusail Boulevard because it is close to Doha, the country's capital. To get here, you may either utilise the metro, a public bus, a taxi, or even your own automobile. However, because it is the quickest and most practical method to go to Lusail, visitors frequently use the Doha metro.