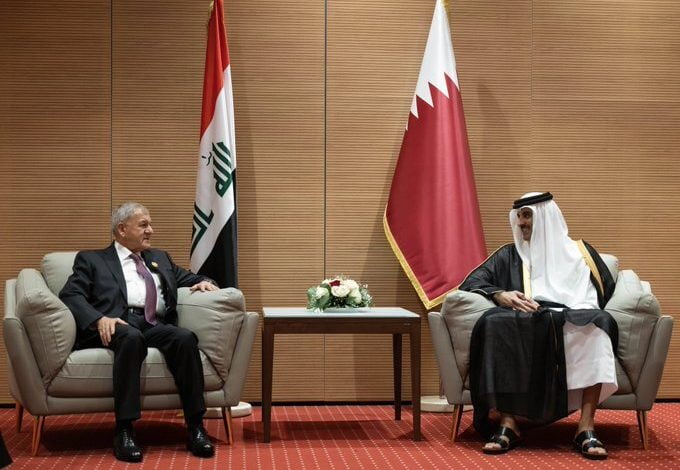 On the eve of the 31st regular session of the Council of the League of Arab States, which took place at the Centre International de Conferences Alger (Abdullatif Rahal) in Algiers. The Amir H.H. Sheikh Tamim bin Hamad Al-Thani, met with H.E. President of Iraq Dr. Abdul Latif Rashid, in Algiers.
In addition to exchanging opinions on the key issues on the summit's agenda, they discussed bilateral relations between the two brotherly countries and a number of developments of mutual interest, the most important of which is boosting unified Arab action.
The meeting was attended by a number of representatives from the official delegation, including the Deputy Prime Minister and Minister of Foreign Affairs H.E. Sheikh Mohammed bin Abdulrahman Al-Thani, the Chief of the Amiri Diwan H.E. Sheikh Saoud Bin Abdulrahman Al-Thani, and the Minister of Finance H.E. Ali bin Ahmed Al Kuwari.
Fuad Hussein, the deputy Prime Minister and Minister of Foreign Affairs for Iraq, as well as a number of other high-ranking officials accompanied the president to the event.