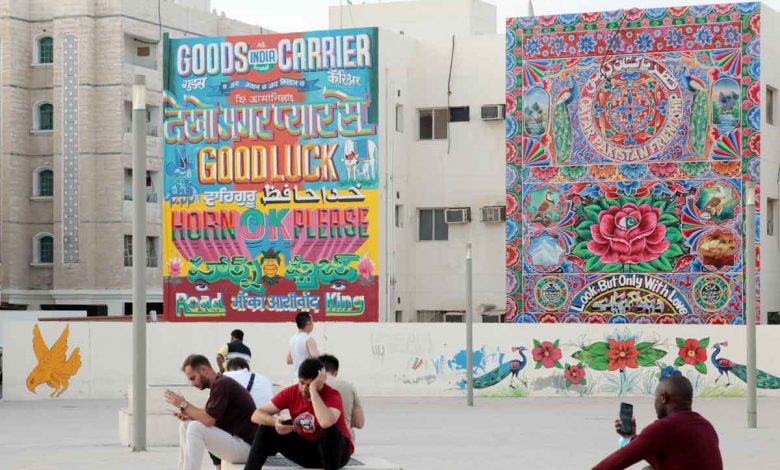 Artists from India and Pakistan painted two adjacent walls near Al Mansoura Metro Station in the well-liked style of truck art, a local décor characterised by floral patterns and calligraphy, as part of JedariArt, an initiative to breathe life into urban spaces across Doha.
The truck art mural in Mansoura was the brainchild of All India Permit duo Akhlaq Ahmad aka Shabbu Painter and Farid Bawa and Phool Patti team, which also includes Ali Salman Anchan, Mumtaz Ahmed, and Muhammad Amin. It was named after the practise that develops from customising trucks and buses in Asian countries.
The Indian team displayed a vibrant typography with motifs and slogans in seven languages (Hindi, English, Bangla, Punjabi, Arabic, Urdu, and Telugu) inspired by the Indian trucks, while the Pakistani truck mural portrayed nature and its various elements with the message of Qatar-Pakistan Friendship written in the centre.
The cooperation was started by Qatar Museums with the goal of bringing these ancient art forms to Doha's public spaces. According to Abdulrahman Ahmed Al Ishaq, Director of Public Art at Qatar Museums, "Jedariart is a public art program that aims to provide a tangible sense of space for the wider community and create new tourist attractions across the city. Qatar Museums is delighted to have All India Permit and Phool Patti on board to adorn city walls with murals."