Business
Baladna witnesses momentous revenue growth of 28%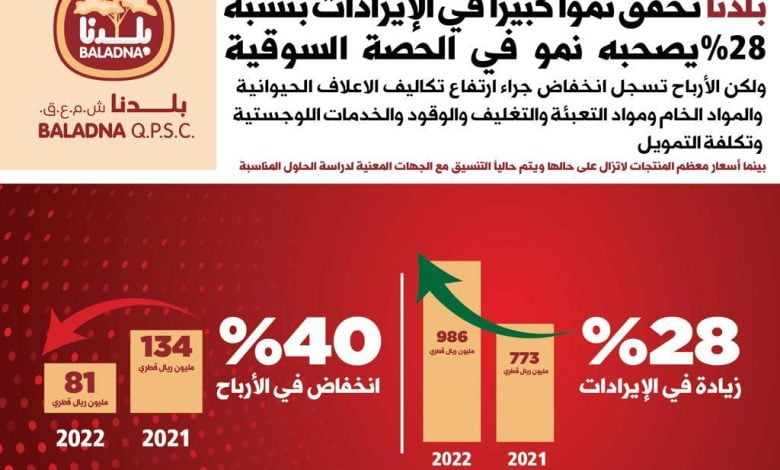 Baladna has reported a noteworthy surge of 28% in its revenue, accompanied by a significant increase in its market shares. Despite these positive results, the company's profits have been on a declining trajectory due to the escalation in the cost of various factors, such as animal feed, raw materials, packaging materials, fuel, logistics, and financing costs. Although the prices of most products remain unchanged, Baladna is currently engaged in coordination with the relevant authorities to assess viable solutions to this challenge. The company is committed to finding effective measures to address the issue and maintain its competitiveness in the market.
Largest dairy producer in Qatar
Baladna, a 100% Qatari cattle farm, is one of the largest in the region, spanning an area of 2.4 million sqm. The farm boasts a capacity to house up to 24000 cows comfortably in a well-conditioned environment, allowing them to reach their full production potential. Freshness and nutritional value are at the core of Baladna's operations. The cows are milked daily using the most advanced rotary milking system to provide a wide selection of dairy products. Baladna offers an authentic model of freshness that is unmatched by its competitors. In addition to its exceptional farming practices, Baladna is also a popular tourist destination. The farm features the region's most advanced rotary milking parlour, which is open to the public. Visitors can also enjoy a meal at the farm's restaurant, stroll through the carefully manicured garden, and explore the children's play area and petting zoo. Baladna is the perfect destination for anyone seeking to experience farm life. Baladna's commitment to quality and authenticity has earned it a reputation as a leading producer of dairy products in the region. The farm's dedication to innovation and excellence in farming practices has enabled it to remain at the forefront of the industry, setting the standard for others to follow.
Key Contributor to Qatar's Food Security and Economy
Baladna, in collaboration with local authorities, implements a long-term strategy to provide the Qatari market with healthy dairy products. The farm's commitment to sustainable and ethical farming practices ensures that its products are of the highest quality, providing consumers with the assurance of safe and healthy dairy products.
Catering to the Diverse Dairy Product Requirements
Baladna's primary focus is on meeting the needs of the Qatari people by providing a wide range of dairy products that exceed their expectations. The farm's products are carefully crafted to cater to different tastes and preferences, ensuring that there is something for everyone.
Catering to Different Lifestyles and Nutritional Needs
Baladna recognizes that people have different lifestyles, from athletes who require specific nutritional needs to individuals with food intolerances. The farm's range of products is designed to cater to these different lifestyles, ensuring that everyone can enjoy the benefits of healthy dairy products.
Sustainable and Ethical Choice for Consumers
Baladna's commitment to local production has resulted in Qatar becoming self-sufficient in dairy products. The farm's contribution to the local economy is significant, with fewer imports and more exports, resulting in a more stable and sustainable economy for the country.
Supporting Education, Health, and Welfare Projects
Baladna takes its social responsibility seriously and is committed to supporting social and charitable projects that benefit the community and the country as a whole. The farm's dedication to CSR is evident in its involvement in numerous projects that focus on education, health, and social welfare.