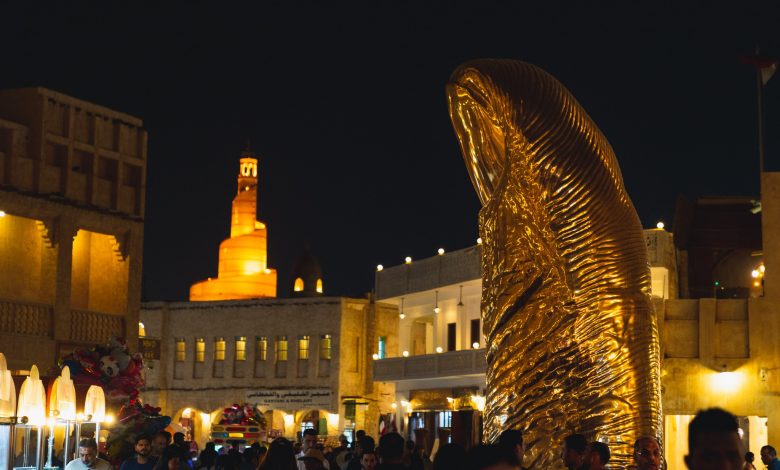 Located on the banks of the Wadi Musheireb and built on the site of Doha's century-old trading bazaar, Souq Waqif looks and feels out of place against the stunning contemporary cityscape of Doha. The market, with its mud-daubed structures, is reminiscent of a bygone period while yet serving as a bustling centre of commerce and gossip. At Souq Waqif, you and your loved ones can relax, hold a falcon, pet a camel, observe mounted heritage police officers dressed in 1940s-era Qatari garb, and take many photographs. The narrow streets of it provide a glimpse into the past. Here are five of our reasons why a visit to Souq Waqif is a must:
Shopper's paradise for Middle-eastern items
Traditional attire, spices, and seasonal treats like fresh dates and nuts, perfumes, intricate jewelry, apparel, handicrafts, and a treasure trove of discount souvenirs may all be found in the maze of narrow streets and quaint stores. The Souq Waqif is a great area to shop for a wide variety of goods, not just those from the Middle East. Some examples include the "magic lipstick," which, regardless of the shade you choose, will always appear red once applied, as well as the "mega lollipop," "miswak," "Tibetan snow," "henna," "kajal," and many other cosmetics. The "Pearl Man" shop in Souq Waqif is your best bet if you're in the market for some of the finest pearls in town. The price of a strand of freshwater pearls can range from QR 100 to QR 1,000. In addition to the main section of Souq Waqif, there is a Gold Souq, a separate structure containing over 40 shops specializing in luxury jewelry.
Souq Waqif is a fantastic destination to find deals and inexpensive goods without draining your bank account. Souvenirs, spices, luggage, handbags, shoes, and other goods can all be purchased at low prices. You might have noticed people helping customers at Souq Waqif by wheeling their purchases around in a wheelbarrow. Hamali is the Arabic word for "porters." A porter can assist you in transporting your purchases to your vehicle for a modest cost.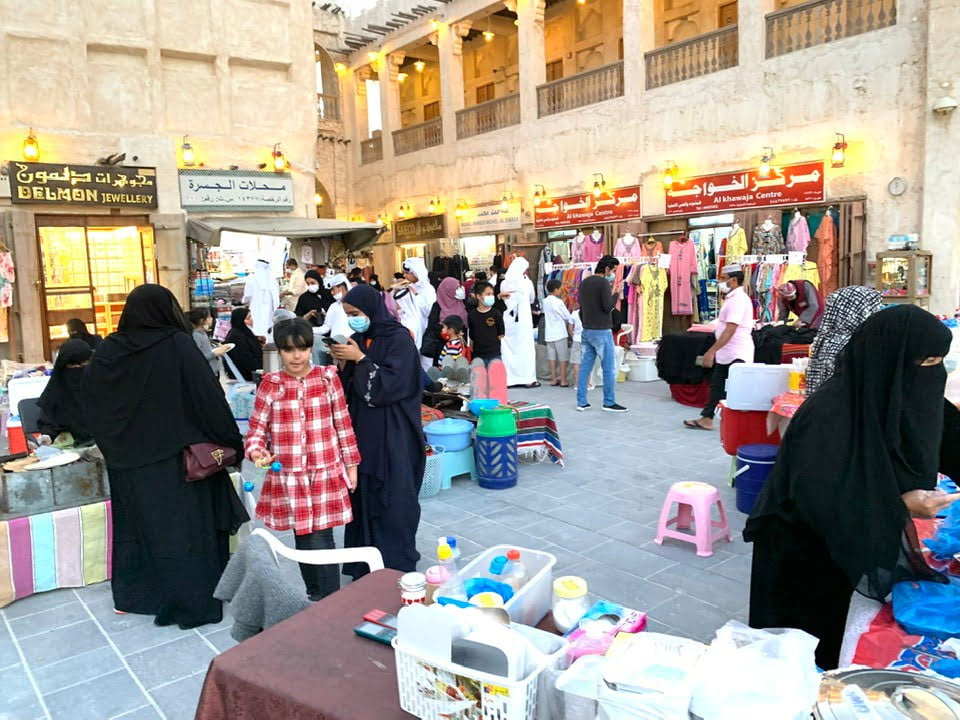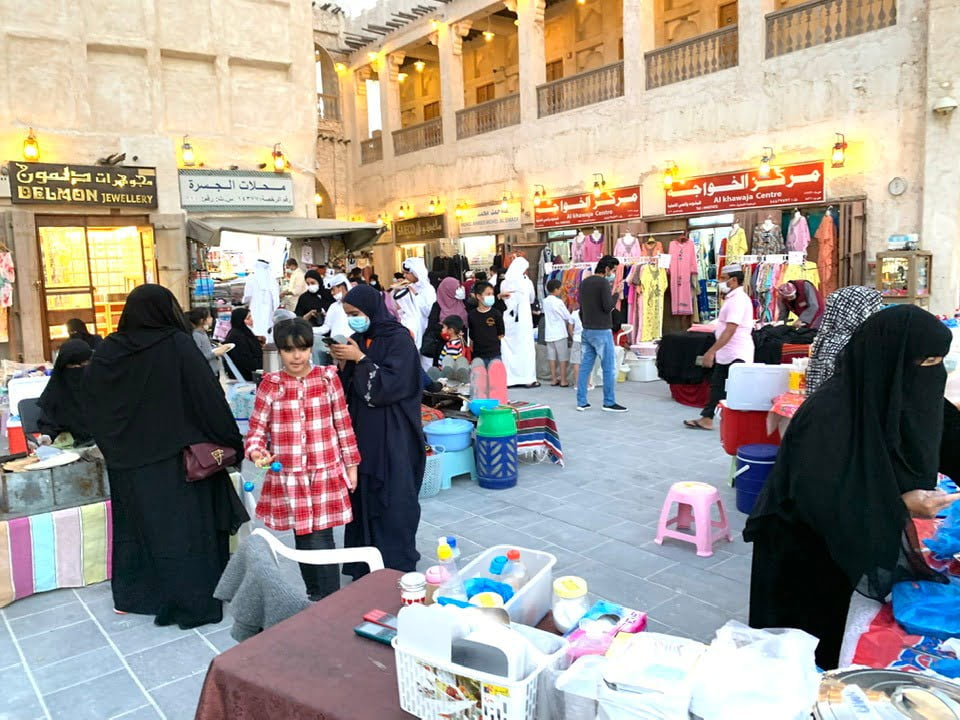 Traditional food haven
You can also satisfy your appetite for delicious, authentic Qatari cuisine in Souq Waqif. Within a quaint alleyway deep within the Souq, a group of ladies prepare and serve wonderful traditional home-cooked Qatari fare. This allows visitors to experience authentic Qatari hospitality and home-cooked cuisine in a natural setting. Traditional foods including Machboos, Harees, Kushari, Kousa Mahshi, Mathrooba, and more can be found here. If you are not in the mood for street food, Shay al Shamoos serves Karak tea and crepes (regag), Al Jasra serves Makhboos (traditional rice dish), Bander Aden serves fahsa (slow-cooked lamb stew in clay pots), and Al Aker Sweets sells delicious kunafas and baklavas. The Bismillah Hotel, opened in the 1950s and the oldest hotel in Qatar is one of the many charming boutique hotels in Souq Waqif. Dozens of eateries serving food from Qatar or Yemen all the way to Syrian, Iraqi, and Indian fare can be found in the Souq.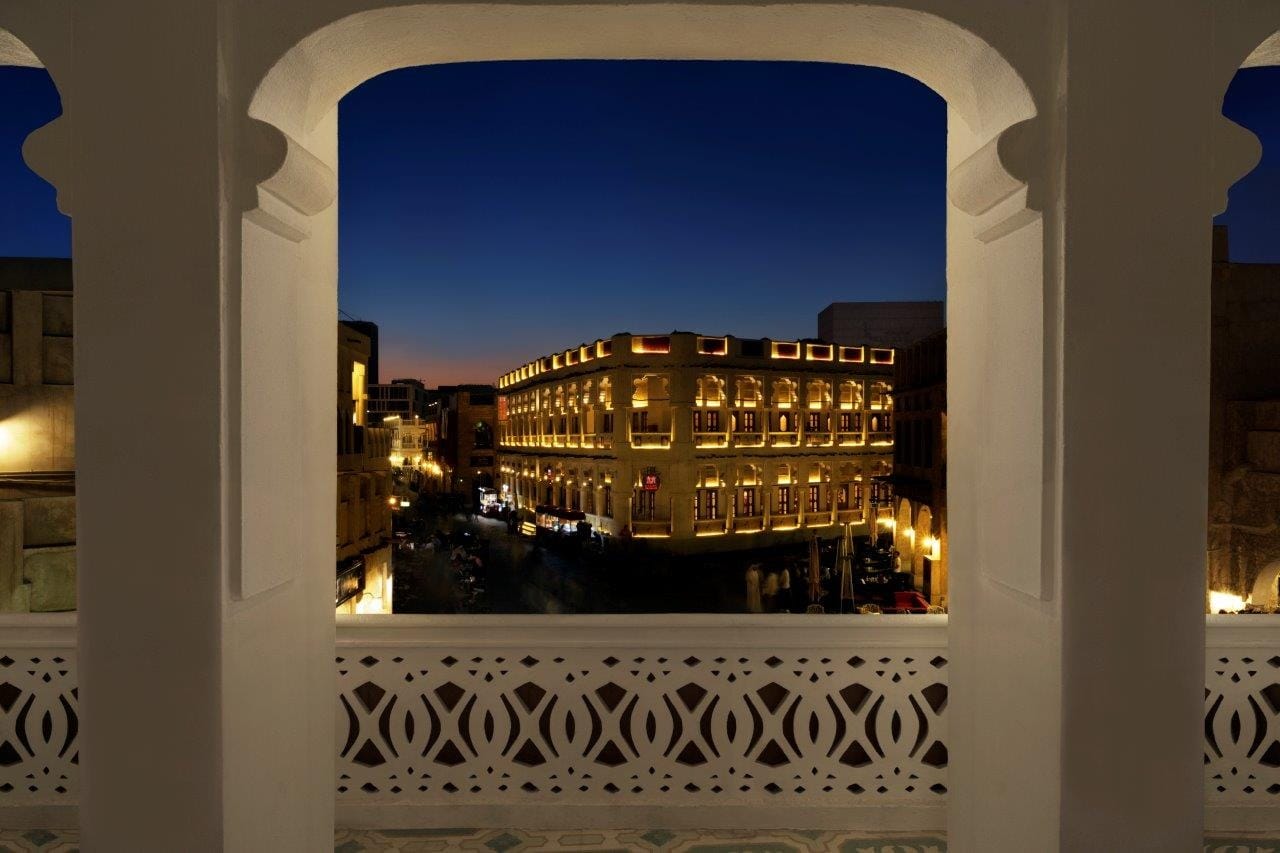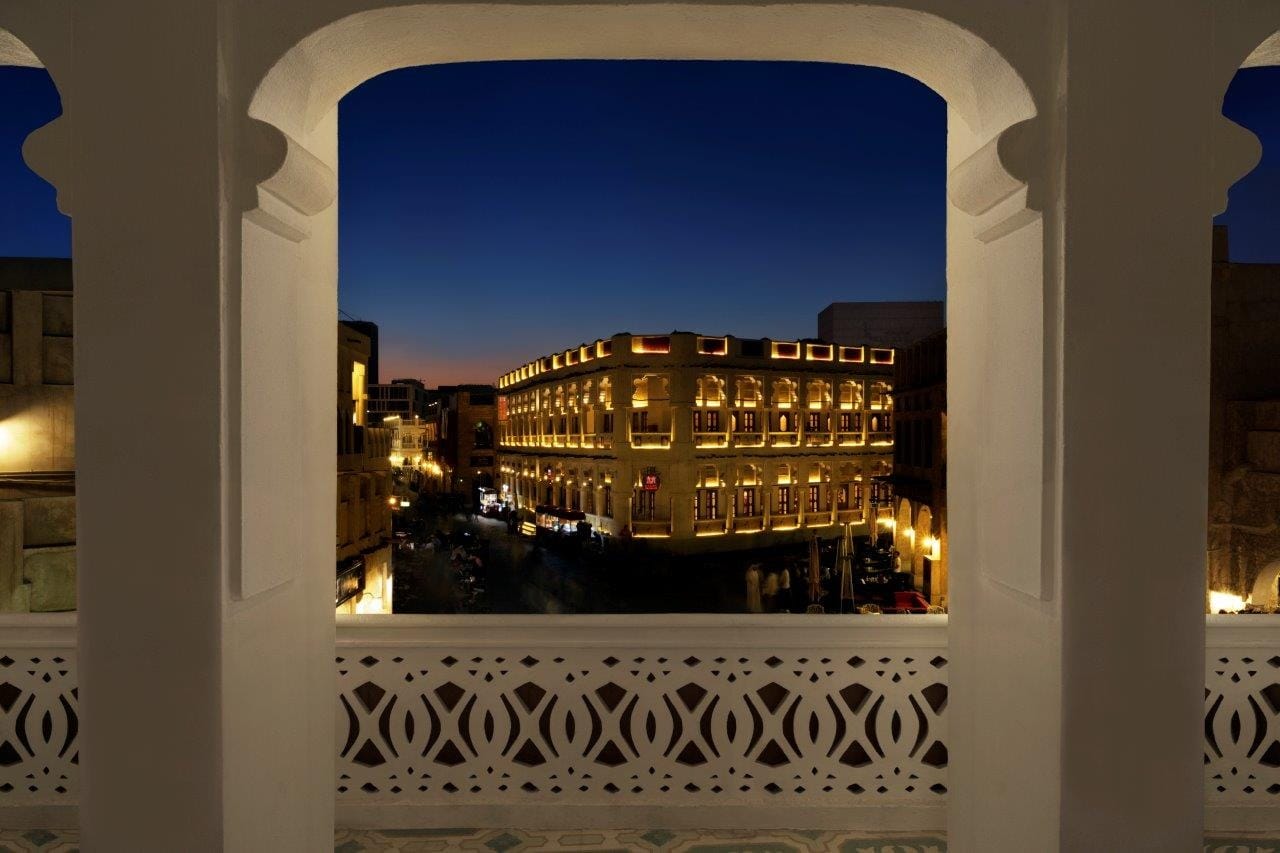 Pouce by César Baldaccini
The huge thumb-shaped Le Pouce is the most recent addition to Qatar's extensive public art collection, which strives to surprise and delight viewers by placing them in unexpectedly meaningful relationships with works of art. Specifically, the artwork can be found in the courtyard of the Souq, close to the police station. The highly polished bronze patina of the sculpture compliments the glow of street lighting in Souq Waqif at night, and the piece may be seen from a variety of perspectives throughout the day.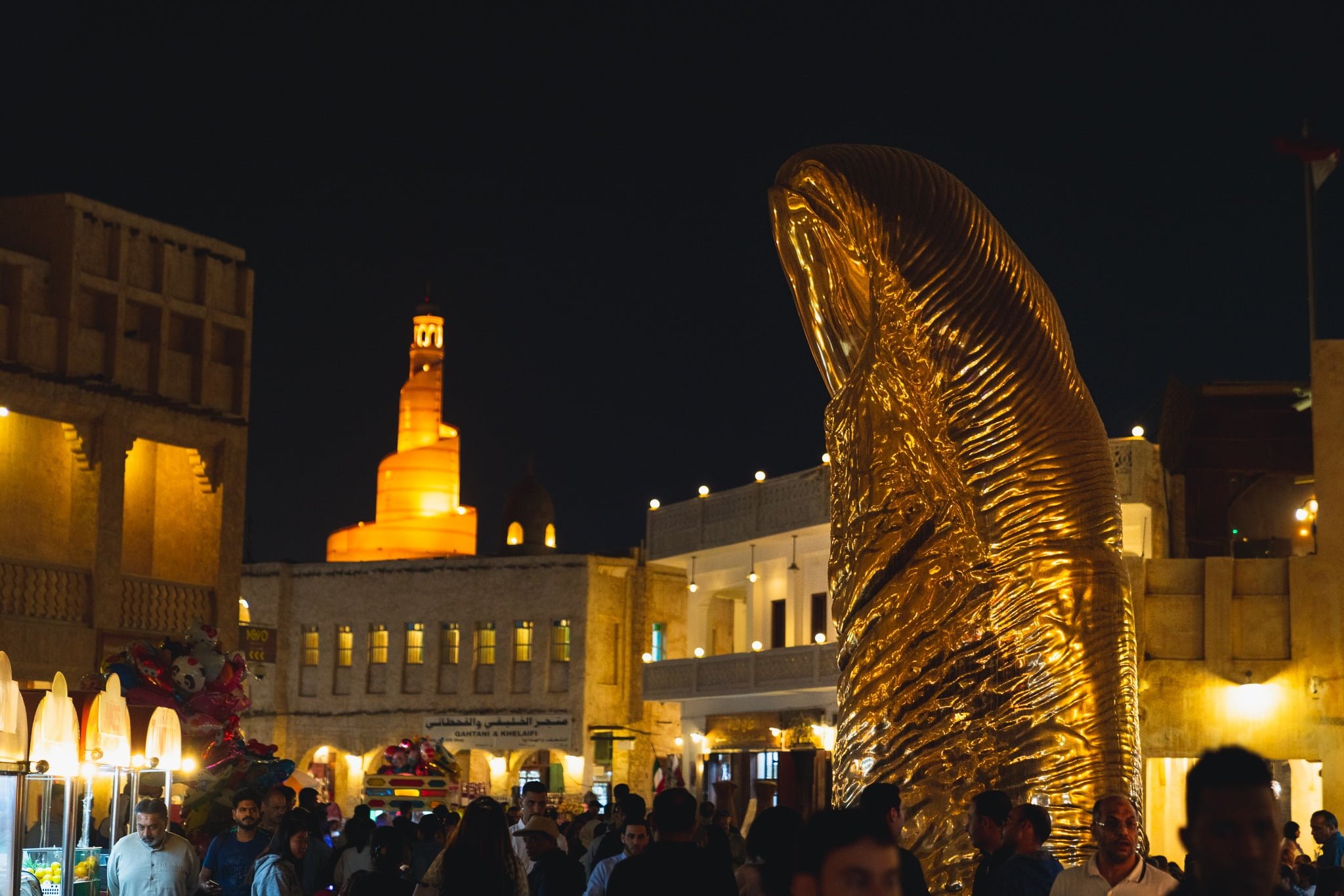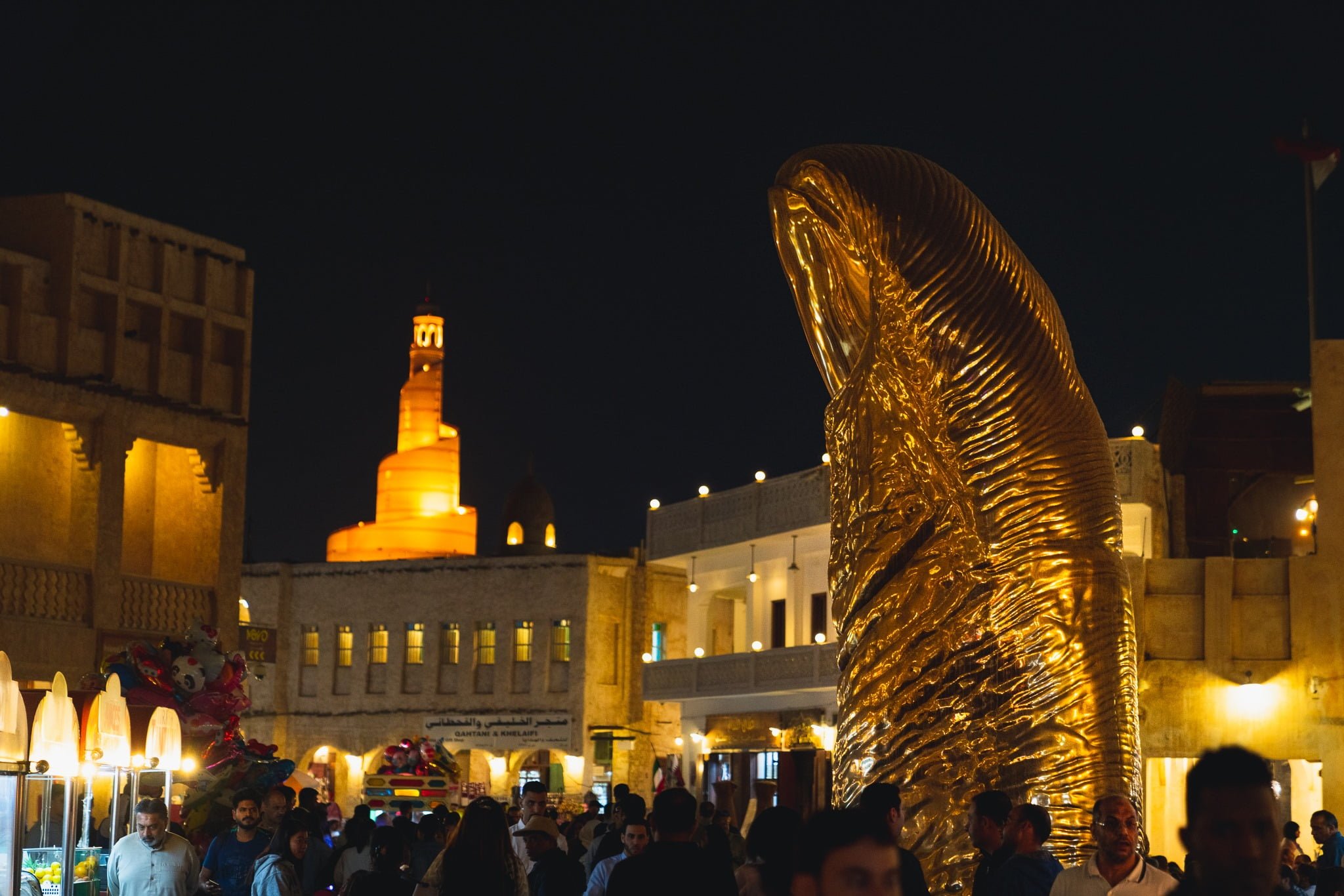 Get Introduced to Falcons
Souq Waqif also features a Falcon Souq, where you can get up close and personal with these magnificent birds and even pose for photos with one perched on your arm while the shopkeeper keeps a keen eye. Falconry is a popular traditional sport in Qatar. You may get medical care for your falcon here, and they sell supplies and equipment for your avian friend.
Engross in Arabic art
People from all over the world who come to the market can enjoy the area's many museums and art galleries. Seeing the works of Qatar's many talented painters is one of the many enjoyable activities available there. As a result of their time spent at the market, tourists will gain invaluable insight into local customs and traditions, making their trip really unforgettable.