Explore
Fragrance full guide on the rose festival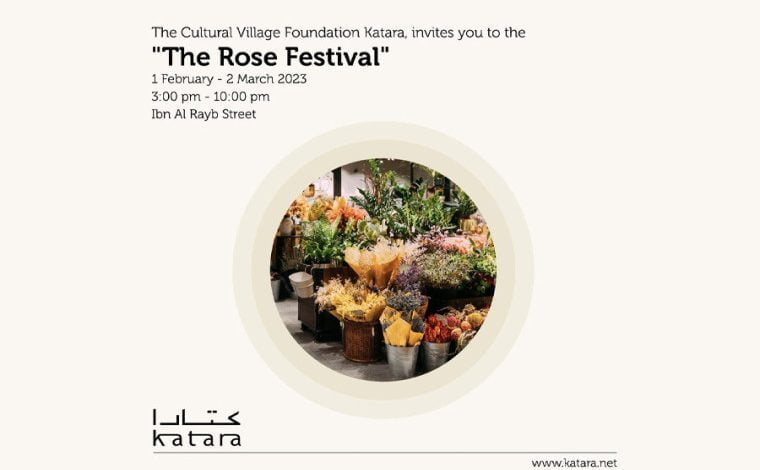 Some of the most exquisite flowers in the world include roses. Roses frequently stand for tenderness, love, and care. The rose speaks of romance and beauty despite the presence of its pointed thorn. The Cultural Village Foundation Katara invites you to the "The Rose Festival" conducted from 1 February 2023 to 2 March 2023 from 3 pm – 10 pm. Located on Ibn Al-Rayb Street at Katara, visitors can come and enjoy the beautiful florals.
Cultural Village Foundation Katara
The Cultural Village Foundation in Katara is a remarkable initiative that offers promise for improved human contact via the exchange of art and culture. It is a project that has been made possible by HH Sheikh Hamad Bin Khalifa Al Thani, the Father Emir of the State of Qatar, and his inspired vision, strong faith, and astute leadership. The biggest and most diverse cultural initiative in Qatar, Katara keeps up with the rapidly evolving global culture that emphasizes the value of diversity in human growth. People congregate there to learn about and experience different cultures from around the globe. Katara wants to lead the globe in multicultural activities by providing stunning theatres, performance halls, exhibition galleries, and cutting-edge amenities. Katara supports the preservation of Qatar's culture and traditions in accordance with the objectives outlined in the Qatar National Vision 2030. It aims to raise awareness of the importance of many ethnicities and cultures. As a result, Katara annually hosts a sizable number of festivals, workshops, performances, and exhibitions on an international, regional, and local scale.
Ibn Rayb Cultural Street
This event is being organized at Ibn Rayb Street. Libraries and publishing houses have wings on Ibn Rayb Cultural Street. It is more than just a street of culture or a location to buy books; it is also a meeting point for cultures and a cross-fertilization of visions drawing writers and intellectuals and is becoming a regular gathering spot for them. It serves as a destination for writers, intellectuals, and culture enthusiasts, in keeping with their high and illustrious cultural position.
Origin of Katara
To position the State of Qatar as a cultural beacon, a lighthouse of art radiating in the Middle East through diverse types of culture, such as theatre, literature, music, visual art, conventions, and exhibitions, the idea for Katara was conceived. Beyond Boundaries is the subject of the village, which aims to provide a glimpse of the future. It will be a world where people from various cultural origins cross international borders to support initiatives that advance a single human race.