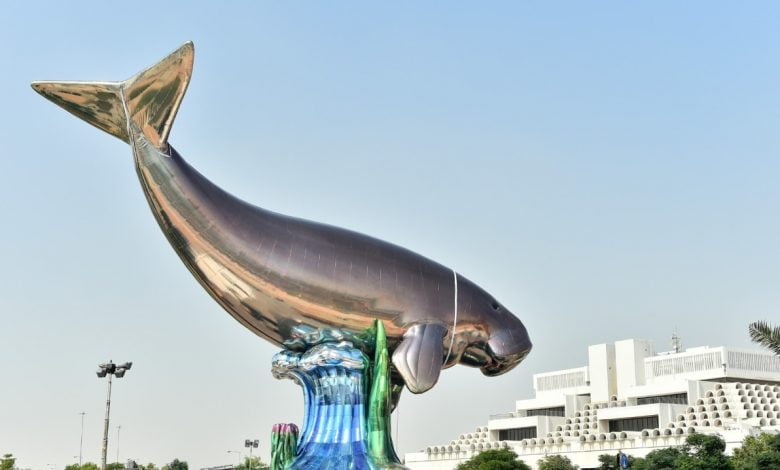 A massive public art piece of a dugong was recently installed on Corniche, attracting the attention of passers-by.
'Dugong,' a polychromed mirror-polished stainless-steel sculpture by renowned American artist Jeff Koons, is the most recent addition to Qatar's public art scene. The gleaming public artwork depicts a dugong resting on an ocean wave and seagrass.
It is currently located at Al Masrah Park in Corniche and stands 21 metres high and 31 metres wide. The artwork will be formally unveiled soon. A dugong, sometimes known as a "sea cow," is a marine animal that has lived in the waters around the country's peninsula for thousands of years.
With the addition of 40 new artworks by local, regional, and worldwide artists, Qatar is on course to transform its public space into an outdoor museum.
Some of these have already been uncovered and made public, such as the "Us, Her, Him" stonework by Lebanese designer Najla Al Zein, which was displayed at the inauguration of the Flag Plaza at Corniche. South Korean artist Choi Jeong Hwa's vibrant artwork, "Come Together," was displayed outside the Education City stadium.
More information will be made available to the public soon, as the country is less than a month away from hosting the FIFA World Cup Qatar 2022TM