Entertainment
Interesting facts about Acoustic Music Penthouse Doha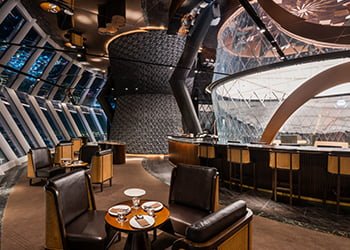 Two very distinct yet excellent areas on the top two floors of the Raffles Doha serve as popular hangouts for music aficionados in the Acoustic Music Penthouse. There is nothing like the ultra-hip lounge on the 36th floor in Qatar. Amber-hued shapes and subdued lighting conjure a subterranean den, a hidden world where music is perceived audibly, visually, and viscerally. However, there are brilliant 360-degree views of Lusail, the Arabian Gulf, and Doha's cityscape just beyond the rounded walls.
Food and Drinks
Enjoy live music, delectable food, and specialty drinks while indulging in soulful beats. Fans of malt beverages will undoubtedly find many fine selections on the menu to savor, but the mixed drinks are what will truly attract attention. Enjoy your favorite beverages during the acoustic hour while seeing the breathtaking Doha skyline at sunset. Have fun at the acoustic hour, indulge in the eight-item set menu, and let the live jazz and soul music take over you. This is the most coveted location in the area for unique drinks and mocktails, along with sweet and savory meals that are inspired by old trade routes.
Female servers
Women are in command here in every capacity, including behind the bar and on stage, as well as in serving and directing. You can anticipate the unexpected at Acoustic Music Penthouse, along with an awesome time.
Raffles Doha
In one of the most progressive and environmentally conscious cities in the Middle East, Raffles Doha is your opulent hideaway. In Qatar, the Raffles brand, which is known for its legendary hospitality, proudly welcomes the world. A haven of artistry and magnificence, surprises, and inspirations, Raffles Doha is housed within the eminent Katara Towers, a clear representation of the nation's cultural pride and avant-garde style. The grand mosques and cathedrals of the world come to mind when you see the atrium's height. Eleven stories high, with exquisitely detailed woodwork, a floor, and a ceiling, with dancing crystalline light and gentle shadow which is unmistakable evidence of the craftsmanship and care.
Location
Raffles Doha is housed in a scimitar-shaped portion of Katara Towers, a waterfront wonder in the Lusail Marina District. The 6-star hotel is 30 km—or around 35 minutes—by car—from Hamad International Airport. Once you've left the airport, turn west and use the F Ring Road to get to the Ras Abu Abboud Expressway. After 6.5 kilometers, turn right onto Al Corniche; after 5.4 kilometers, turn left onto Al Markhia Street. Make a right turn into Al Istiqlal Street after another 1.2 kilometers. onto the Lusail Expressway, heed the signs. Take the Lusail Marina exit after 2 kilometers. Turn left at the second set of lights. After 500 meters, the hotel will be on your right.