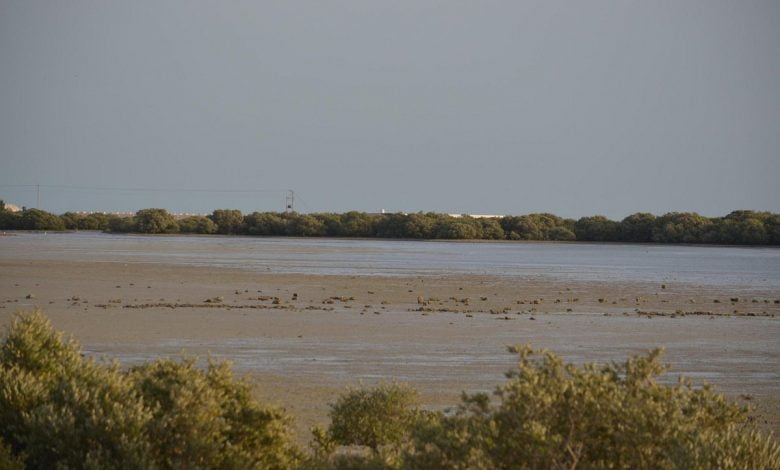 Al Khor Island, also known as Purple Island, is a haven of peace where one may unwind and rest away from the bustle of the city. The island provides all nature enthusiasts and individuals who like privacy with the maximum delight in a tranquil natural environment. Contrary to its name, Purple Island in Qatar is really green and surrounded by gorgeous foliage and unique animals, including fossils. This island is close to Al Khor and is about 40 minutes by car from Doha. This location is a natural wonder and the ideal place to spend a day surrounded by nature due to its tranquil atmosphere and profusion of mangroves. Anyone who likes nature and wants to spend some time away from loud environments can find solace on the island.
History of the island
In the second millennium BC, Purple Island served as a camp for transient commerce with Bahrain, beginning its history. It is the only location in Qatar where an archaeological site dating back to the second millennium BC is present. The island was once utilised by Qataris as a location for pearl diving and fishing. Considering that the island is a region of the nation that gets less than 71 mm of rain annually, it is amazing that it stays green all year round.
Name origins
Purple Island is the perfect destination if you just want to disconnect from monotonous city life. Nestled on Qatar's northeastern shore, it is one of the country's most beautiful jewels. It is green in colour and the perfect vacation spot for those who enjoy the outdoors and are interested in fish, crabs, flowers, plants, fossils, and animals. It is simple to stroll about the island and take in its splendour. The term "purple dye" was given to the island since it was a place where the dye was produced. The excavations contain a midden containing the remnants of several sea snail shells that have been crushed, together with pottery vats used to macerate the mollusks. In Qatar, there are no hotels that are close to the island.
Favorable time to visit
The ideal months to visit Qatar are November through February, when the weather is nice and the intense heat of the sun will be avoided. To fully appreciate, we advise you to schedule your visit to Purple Island in Al Khor during this period. The greatest times to visit Purple Island are also right before or right after high tide, when it is safe to engage in a variety of activities there. To learn more about the high and low tides on the island, visitors should contact the local weather service.
Activities to enjoy
One of the top natural destinations in Qatar is Purple Island in Al Khor, which is renowned for its serene surroundings and natural beauty. The island provides several opportunities for bird enthusiasts to see rare species. Another attraction of this island is the mangrove vegetation that completely encircles the region. Visitors must exercise additional caution when strolling on the island since the water there is home to numerous little fish and crabs. The wooden bridge that connects the island's little hills, Purple Island Beach, and other features only enhance how beautiful Purple Island is. You may see some breathtaking sights when walking across this bridge, which is quite an adventure in and of itself. Al Khor Purple Island is a terrific area to relax, spend time in nature, or go on an exciting adventure with friends. Due to the island's breathtaking natural beauty, photographers have many opportunities to capture some incredible images there. On this island, taking long walks with your loved ones is another exciting thing to do. Children may play freely, climb, and enjoy the surreal beauty of nature in this ideal location. Rock-climbing, Kite Surfing, Paddleboarding, and many more are present for you to enjoy. We recommend seeing these natural wonders if you're searching for something different from Qatar's heritage sites since they will provide you with an absolutely magnificent experience. Taking a kayak through the mangroves on Purple Island in Qatar.
Easy way to reach
Purple Island in Qatar, which is one of the best tourist destinations in the region and is situated in Al Khor city, northeast of Qatar, is highly accessible. In reality, travelling from one place to another isn't a significant bother in this country due to its tiny size. To reach Purple Island, Qatar, which is situated in Al Khor city northeast of Qatar, is extremely simple. A taxi ride to the island from Doha will take around an hour and cover roughly 45 kilometres of driving distance. Following the signs, you must take Al Thakira Road, and then at the RasGas roundabout, you must turn right. Travelers should anticipate a less difficult commute to the island because Qatar's roads are well-maintained and linked.