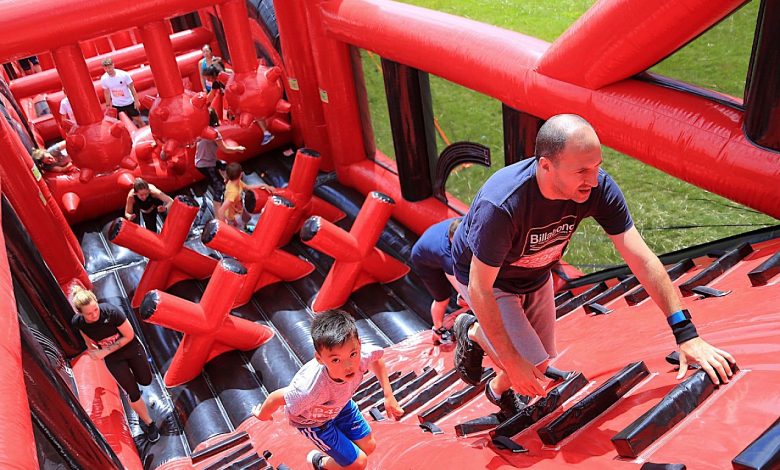 InflataRUN is the perfect answer for a fun-filled family event in Qatar. Join the fun at one of the world's longest and largest inflatable obstacle courses that promises endless excitement and laughter. That's not all – you can also enjoy a live DJ, stage performances, carnival booths, photo ops, and delicious food from over 25 vendors. The event is designed to give you and your family an unforgettable experience that you will cherish forever.
InflataRACES – A Test of Endurance and Agility
Get ready for the ultimate test of endurance and agility! InflataRACES is coming to Qatar with two exciting new courses – the 100-meter InflataSPRINT and the Guinness World Records breaking 1180-meter long InflataMONSTER. The inflatable obstacle courses are bigger and bouncier than ever before, featuring loads of obstacles and pumping Music Zones that are sure to get your adrenaline pumping. The event is open to ages 6 and over and is held in partnership with Warrior Fit Gym, the race administrators.
Race Details and Prizes
The InflataRACES will take place on Saturday, 18 March 2023, from 7 am to 11 am, at the Education City Stadium – Spectator Parking D. If you are competitive, then this event is perfect for you, as there are cash prizes worth QR 140,000 and medals for the top three male and female athletes in each category. All participants will also receive an enhanced race pack that includes collectible InflataRACE t-shirts and other goodies.
Event and Ticket Details
The InflataRUN and InflataRACES are both held from 9 to 18 March 2023, from 4 pm to midnight (12 am) daily. Entrance is free for those who wish to enjoy the event, food, and entertainment without participating in the InflataRUN or InflataRACES. However, if you are accompanying a kid or toddler, you must purchase an adult ticket. Tickets for the InflataRUN and InflataRACES are different, so make sure to check the details before you purchase tickets for yourself or your family and friends. Children under 12 must be accompanied by an adult and have their own ticket to enjoy the inflatables according to their age mentioned on the ticket.
Food Vendors and Seating Areas
For those who need a break or want to relax, there will be plenty of seating areas and shaded spots available. Food vendors will also be present, providing a variety of snacks and drinks for visitors to enjoy.
Parking and Pet Policy
There are multiple parking spots available next to the InflataRun, but visitors are advised to arrive early to secure the best parking spots. Parking is on a first-come, first-served basis. Unfortunately, pets are not allowed on the premises.
Safety Precautions
The safety of visitors is of utmost importance to the organizers. Paramedics will be available on-site during the event operation hours to provide assistance if needed. Visitors can be assured that their safety is the top priority of the event organizers.