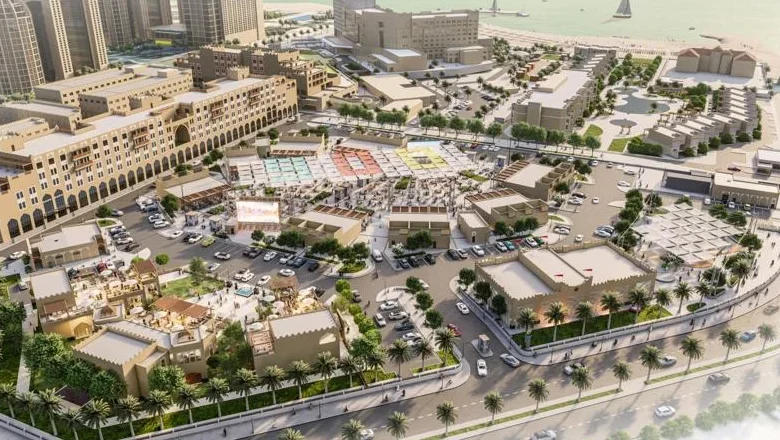 900 Park Doha is the newest addition to Qatar's roster of fantastic food and beverage districts, and it will be a significant draw for the upcoming FIFA World Cup Qatar 2022TM and beyond. The immersive centre is located next to the InterContinental Doha and offers a fantastic mix of eating and recreational activities. The site is also metro accessible through the Doha Metro Red Line station at Al Qassar. This unique social centre, which is over 40,000 square metres in size, is perfect for individuals searching for entertainment, especially sports aficionados. 900Park is a must-visit location with carefully chosen worldwide street food and beverage brands, as well as live entertainment and interactive features.
Great spot for foodies
900Park boasts a diverse eating scene with delicacies from all over the world. Exit 55, Fiko Doha, Buba by Sumosan, Chickito, and more restaurants can be located in the park, offering a high-quality and broad assortment of global street cuisine and foreign drinks to complement the bustling ambiance. 900Park is on set to become one of the must-visit gourmet hubs in town, with over 20 of Qatar's must-try eateries. The park also offers a designated social eating area where visitors can enjoy their favorite dishes while watching live entertainment and viewing massive screen projections from all directions. There are also enhanced drinks offered at the park.
Refreshing leisure activities
Enjoy many forms of entertainment at 900Park with recreational activities including gaming stations, a picture booth, and even live tournament matches. A wonderful gift for sports enthusiasts, 900Park will stream all live games on high-definition LED displays from the start of play until late at night. Fans may also use a digital picture booth and specific areas for Custom Gaming Suites. All FIFA World Cup Qatar 2022TM matches will be shown on enormous screens with the finest audio quality, providing an excellent fan experience and encouraging World Cup passion.
Outdoor entertainment points
900Park provides entertainment in addition to delicious cuisine and fun activities as it gets ready to host a daily lineup of international events and DJs. The outdoor entertainment area, which features a variety of music genres including House, Arabic, R&B, and more, is guaranteed to keep guests on their feet.
Famous eateries to enjoy
Exit55 was founded by a group of local businesspeople who had previously lived and studied in several American cities and states. It delivers the American street cuisine experience to Doha. Each of them offered a variety of dependable and well-liked street foods. They place a high priority on service, quality, and innovation. They pledge to infuse innovation into every facet of our business operations so that we may give our clients a special, enjoyable, and lasting experience. Fiko Doha gives you the breadth and depth of Turkish culinary culture. By giving our guests the best service possible, they hope to earn their trust and friendship. They strive to offer the highest degree of customer satisfaction. Their goal is to take a leading position in Turkey and all of the areas they will service by using a customer-focused strategy. With outlets in some of the most exciting cities on earth, Sumosan is a multi-award-winning, highly regarded Japanese restaurant. Buba By Sumosan is a brand-new idea that the Sumosan organization unveiled in September 2014. It strives to appeal to a wider audience by offering reasonably priced Japanese goods of the same high caliber for which the Sumosan brand is known. serves a variety of chicken sandwiches.bEven though they provide a range of dishes and meals, including Chicken, Sandwiches, their best-selling dishes include Chicken Popcorn, Honey Chipotle Sandwich, Honey Mustard Sauce, and Chick Maple Combo.
World Cup on screens
The FIFA World Cup Qatar 2022TM will soon arrive. The foreign teams are prepared to compete in the major competition. Fans of FIFA would undoubtedly not want to miss any of the soon-to-begin thrilling event. Because of this, 900 Park has made the decision to broadcast live football TV streaming in HD, providing fans of the game with free pleasure no matter where they are. The audience will enjoy themselves greatly while cheering for their chosen teams.