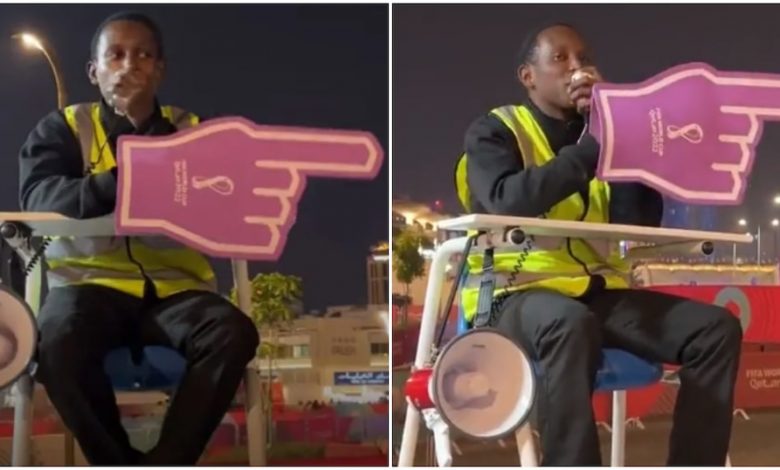 Abubakar Abbas has become famous in Qatar and dubbed "Metro Man" by fans and got invited to the England versus USA match like a special guest.
Fans from across the globe have gathered in Qatar for the FIFA World Cup 2022 allowing them to view their national teams and global stars in action. Another man apart from these famous players, has won the hearts of people. He has gone viral due to his different way of guiding fans to the location of the Metro station in Doha.
Abubakar Abbas says "Metro, this way" in a mic. He guides fans who have come to Qatar for the World Cup. Fans say that they love the way he says "metro, this way". Fans can be seen gathering around him to watch him in action. When he says "metro", they then all join together and say "this way". Abubakar Abbas has now become an internet sensation. He is very popular amongst the fans in Qatar.
His videos are circulating on social media platforms and the internet. Some claim that he has become more popular than some football players.
Abubakar Abbas sits on a tennis-umpire chair wearing the large foam finger as he guides many fans who are visiting the Souq Waqif which is a historic market in Qatar, to the metro station close by. He does this with his megaphone.
As he becomes viral on the internet, the place where he sits at Souq Waqif became a favorite stop-over for fans travelling around Doha.
In one TikTok video it can be seen that a group of volunteers even respond "This way!" whilst he guides the fans via the megaphone.
He has opened a TikTok account and has been able to get thousands of followers in a little time. There are even comments of support that have poured on every video. One user has even said that he has made this his ringtone. Good people must be celebrated.
Who is Abubakar Abbas?
Abubakar Abbas is a 23-year-old who is from Kenya. Not much is known about him, but this mysterious social media star has gotten the hearts of people due to him bringing enthusiasm to a mundane task. People love his enthusiasm. Some say that there should be more helpful people like Abbas in the world.
Abbas is inspiring other workers to also join in the fun. Many are donning his trademark foam finger and giving fans directions in some creative ways.
Abubakar Abbas was even a special guest at the famous match between England and USA. In the packed Al Bayt Stadium, Abbas speaks via the microphone and shouts "Metro!" upon the pitch. This is in front of many football fans. The crowd was seen to respond "This way" excitedly.
The "Metro Man" got awarded for the efforts. The Qatar 2022 organizers even thanked him for playing a role in making sure that the smooth and effective flow of transport occur during the FIFA World Cup matches.