Business
MOCI to participate in New Delhi's 'Partnership Summit 2023'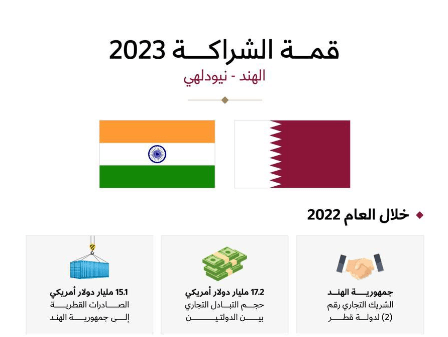 The Ministry of Commerce and Industry (MOCI) of the State of Qatar took part in the 28th CII Partnership Summit 2023, held in New Delhi, India, under the theme "Partnerships for Responsible, Accelerated, Innovative, Sustainable and Equitable Businesses." This participation aims to enhance trade and investment cooperation between Qatar and India and promote the investment environment in Qatar.
Qatar-India Trade Relations
India is the second-largest trading partner of Qatar, with bilateral trade reaching USD 17.2 billion in 2022. Qatar exported USD 15.1 billion to India, and 9,136 Indian companies operate in Qatar.
Topics Discussed in the Summit
The CII Partnership Summit 2023 featured discussions by experts and decision-makers on various topics related to global economic development. These topics included the future of labor, the creation of a sustainable workforce, international cooperation for reducing carbon emissions, the role of international companies in facilitating African economic integration, industrialization and technology for Africa's comprehensive development, the role of the G20, sustainable financing, global sustainability reports, and ways to achieve sustainable development.
The Importance of the CII Partnership Summit
The CII Partnership Summit 2023 provides a platform for global dialogue on international economic relations and a crucial role in shaping global economic development. The Summit brings together heads of state, government officials, decision-makers, entrepreneurs, international organizations, and investors from around the world to discuss issues and share their perspectives.
MOCI Duties and Responsibilities
The Ministry of Commerce and Industry is a government body in charge of managing commercial and industrial activities in the State of Qatar. Its primary function is to oversee these activities while aligning them with national development goals.
Business Development and Export Promotion
The Ministry's mandate includes business development aimed at attracting investments and supporting the development of exports. It achieves this by developing methods and procedures for providing public services to the business and investment sector. Additionally, it regulates the practice of trade professions and registers commercial and investment establishments, issuing the necessary licenses to carry out their activities.
Regulation of Markets and Consumer Protection
The Ministry is also responsible for supervising the regulation and control of markets within its jurisdiction. It takes measures to protect consumers, combats commercial fraud, safeguards competition, and prevents monopolistic practices. Furthermore, it protects intellectual property rights to ensure fair competition.
Promotion of Industrialization
It is at the forefront of efforts to promote industrialization and national industries. It develops general policies to achieve these goals, develops and exploits existing industrial zones, and proposes the establishment of new ones. This is to create a conducive environment for businesses to thrive while contributing to national economic growth.