Business
Mohammed bin Rashid attends the 20th Dubai International Arabian Horse Championship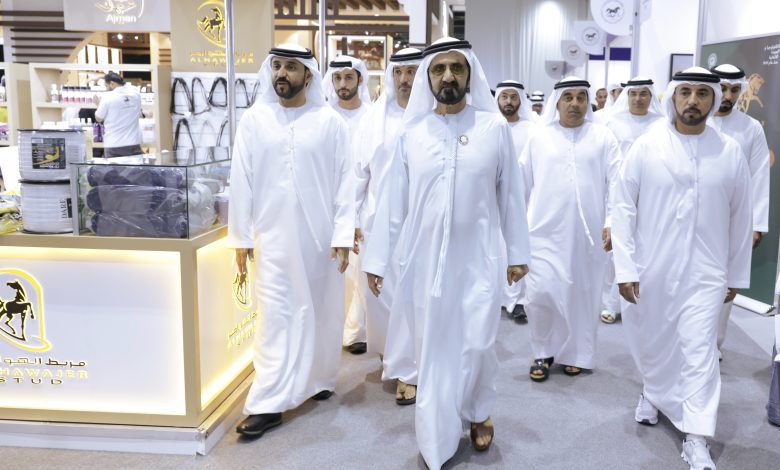 Mohammed bin Rashid attends the 20th Dubai International Arabian Horse Championship and tours the 17th Dubai International Horse Fair
His Highness highlights the growing profile of the Dubai International Arabian Horse Championship that has helped the emirate raise its status as an international equestrian hub and a global destination for horse owners
Dubai International Arabian Horse Championship features 151 horses competing in 14 categories for a total prize money of $4 million
17th Dubai International Horse Fair (DIHF) brings together 60 exhibitors from 35 countries
His Highness Sheikh Mohammed bin Rashid Al Maktoum, Vice President and Prime Minister of the UAE and Ruler of Dubai, today attended the 20th Dubai International Arabian Horse Championship. Being held from 17 – 19 March at the Dubai World Trade Centre, the world-class beauty competition for purebred Arabian horses features 151 horses competing in 14 categories for a total prize money of $4 million.
His Highness, accompanied by Sheikha Hessa bint Hamdan Al Maktoum and His Excellency Helal Al Marri, Director General of Dubai's Department of Economy and Tourism, also toured the 17th Dubai International Horse Fair (DIHF), being held  alongside the Championship. Featuring 60 exhibitors from 35 countries, the region's leading equestrian industry event connects a diverse range of equine suppliers with horse enthusiasts, owners, breeders, stables and clubs. This year's DIHF features for the first time exhibitors specialised in equine healthcare services, a market worth $24.5 billion globally.
His Highness highlighted the growing profile of the Dubai International Arabian Horse Championship, which has helped the emirate raise its status as an equestrian hub and a destination for horse owners from around the world.
This year's edition of the Championship features a number of horses that won medals in equestrian beauty contests in the UAE and Qatar, as well as in the World Horse Championship held annually in Paris, France.