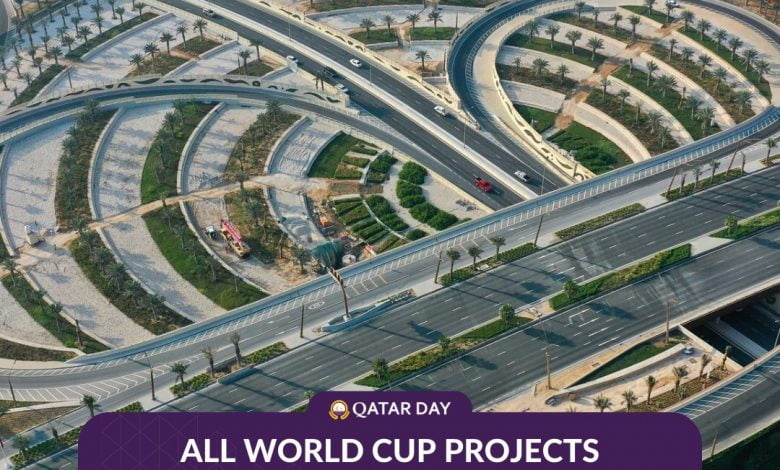 The FIFA World Cup Qatar 2022TM has been served by all projects, according to the Public Works Authority called Ashghal. The initiatives seek to improve the entire spectator experience during the competition and leave a lasting image of Qatar's civilised heritage. Ashghal has made a commitment to carry out all initiatives supporting the FIFA World Cup Qatar 2022TM for more than ten years. These initiatives include the construction of a top-notch highway and main road network that would connect all stadiums used for competitions, sporting venues, and the most important tourist destinations in the nation. In addition to parks, beaches, and public buildings, roadways also include drainage systems and rainfall drainage networks.
Roads to ease commute
More than 1,791 km of highways, 207 bridges, and 143 tunnels were all finished by Ashghal. The Sabah Al Ahmad Corridor was one of the most prominent projects, along with Al Majd Road, Al Khor Road, Lusail Road, and G-Ring Road. In Qatar, the 195km long Al Majd Road is regarded as one of the most crucial highway arteries due to its significance for both traffic and the design and execution of the highway network. Within the highway network that has been developed during the past several years, the Sabah Al Ahmad Corridor is likewise of utmost significance. The majority of the FIFA World Cup Qatar 2022TM stadiums, including Stadium 974, Al Thumama Stadium, Al Janoub Stadium, Khalifa International Stadium, and Education City Stadium, are accessible along this 29 km long route. Al Khor Road has five lanes going in each direction and is 33 kilometres long. It has a connection to both Lusail and Al Bayt Stadiums as well as the Olympic Cycling Track.
Beautification of landscapes
One of the key objectives of the Corniche and Doha Central Creation and Beautification Projects was the development of seven significant locations between the Corniche and A-Ring Road. These places are now finished and usable. The department has constructed a network of street lights, new traffic signals, new multi-story parking buildings for parking, and pedestrian bridges as part of its World Cup strategy. 28 km of new roads are also being built as part of the projects, and 238,348 m2 of Doha's downtown will be landscaped. It aims to create an environment that is conducive to living a healthy lifestyle. The Corniche, parks, museums, boutiques, and entertainment facilities are just a few of the tourist attractions that call this region of note home. In addition, roads and parks have been built in North West Bay and the area between the A-Ring Road and the C-Ring Road. The project includes Al Dafna, zones 14, 15, 16, 24, and 25. Additionally, 420,942 m2 of landscaping and 10 km of new roadways are included.
Paths for pedestrians
In addition to five pedestrian tunnels and more than 16 bridges, Ashghal constructed 2,131 km of pedestrian and cycling pathways as part of Qatar's highway and municipal road projects to promote a better way of life. These routes link each of the venues where matches will be played at the FIFA World Cup Qatar 2022TM.
Green spaces and beaches
Making sure there are green places available all around the nation to encourage a healthy lifestyle was one of Ashghal's main priorities. More than 900,000 trees were successfully planted as part of the "Qatar Beautification and Our Kids Planting Trees" campaign, which was started in 2019 in partnership with the Ministry of Environment and Climate Change. Additionally, more than 11 million square metres of new green space were produced. Eleven open-to-the-public public parks and green plazas were also constructed and improved. To the advantage of the general public during the FIFA World Cup Qatar 2022TM competition, the committee has also finished a number of beach development and maintenance projects, totaling up to 12 beaches. Ras Bu Abboud and West Bay beaches are two examples of these; they have been changed into public beaches and leisure zones with features including rest spaces, games, beach services, kiosks, pedestrian and bicycle pathways, and rest places.
Construction of bridges and transportation means
Ashghal has worked on a variety of public buildings in the fields of health, education, tourism, communications, and transportation, with the World Cup acting as one of its catalysts. In collaboration with the Ministry of Transportation, one of the significant projects that was completed was the building of 15 bus depots and stations to transport the general public and facilitate transportation during the tournament. Three plazas were also constructed to serve as landmarks for celebrations and events. Only Al Bidda Park can hold 40,000–80,000 people. Ashghal has constructed 10,000 hotel rooms as well as housing units in Ras Bu Fontas, Rayyan, and Lusail for football fans. The Dar Al Kuttub project and the Ministry of Culture, as well as the creation of the Museum of Islamic Art, were all the results of partnerships between the Ministry of Municipality and Qatar Museums. It is significant to mention that the project, the largest e-bus depot in Lusail, which just set a new Guinness Record, offers about 478 parking spots for e-buses that serve FIFA World Cup 2022TM events. Eight bridges are now being built around Qatar, including in the Industrial Area, Sadd, Markhiya, and Rawdat Al Khail. All of the bridges are adorned with vibrant colours and World Cup 2022 insignia. The Doha Expressway, Najma, Al Istiqlal, Al Khaleej, Al Furousiya Street, and other locations all have active bridge construction projects going on right now.
Epitome of sustainability
Ashghal has increased the amount of recycled materials used in projects to 20% of all materials used by 2022 with the purpose of attaining the sustainable development goals of Qatar National Vision 2030, which seek to strike a balance between economic growth and environmental preservation.