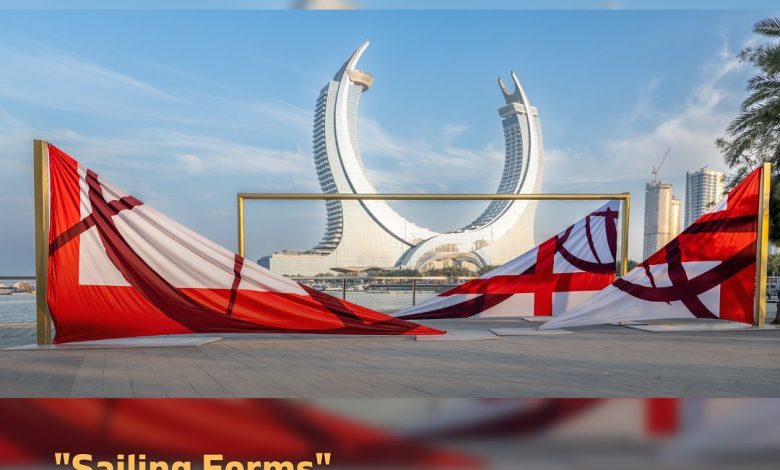 Posts of Qatar, a collection of ten unique goalpost art pieces, was launched by Qatar Tourism at some of the nation's most famous landmarks and Instagram-worthy locations. Two goalposts in the Posts of Qatar exhibit were created by Qatari artists, and the remaining eight were created by artists from countries that had won the tournament in the past, England, France, Spain, Italy, Germany, Argentina, Uruguay, and Brazil. The project epitomizes how much the nation loves football, appreciates art, and has the ability to design beautiful places. The artwork displays the significance that football can play a part in uniting people from different ethnic backgrounds by fusing parts of each artist's own nation with facets of Qatar's rich cultural heritage.
Local artists contributed their skills to the project. Abdulaziz Yousef made a goalpost that welcomes all the tournament participants, while Ghada Al-Suwaidi designed the goalpost that represents Qatar. The elegantly written structure that tops the Argentinian goalpost was created by calligraphy artist Fatima Alsharshani, and Maryam Faraj Al-sweeping, Suwaidi's metallic dhow boat sails adorn the French installation. In addition, both the Argentinian and French concepts were created with a Qatari touch. At one of the goalposts, David Beckham snapped the first of numerous photos at Lusail City Marina. Among other places, the installations can be found at Souq Waqif, the Inland Sea, the Museum of Islamic Art Park on the waterfront, The Pearl-Qatar, and Katara Cultural Village. Below is the complete list:
Freej by Ghada Al-Suwaidi from Qatar – Souq Waqif
Doha's low-rise Souq Waqif, which is home to charming shops, roaming camels, and an aromatic spice market, serves as the historic center of this contemporary metropolis and is a suitable setting for Ghada's evocative goalpost. The two solid blue doors are reminiscent of the entryway seen in many older Qatari homes, which kids used as goalposts during informal neighborhood football matches. They are flanked by tumbling bougainvillea. It's hardly imaginable for Qatari grownups, who have witnessed their nation expand so quickly in recent years, that from such modest beginnings, Qatar has gone on to proudly host people from every corner of the world.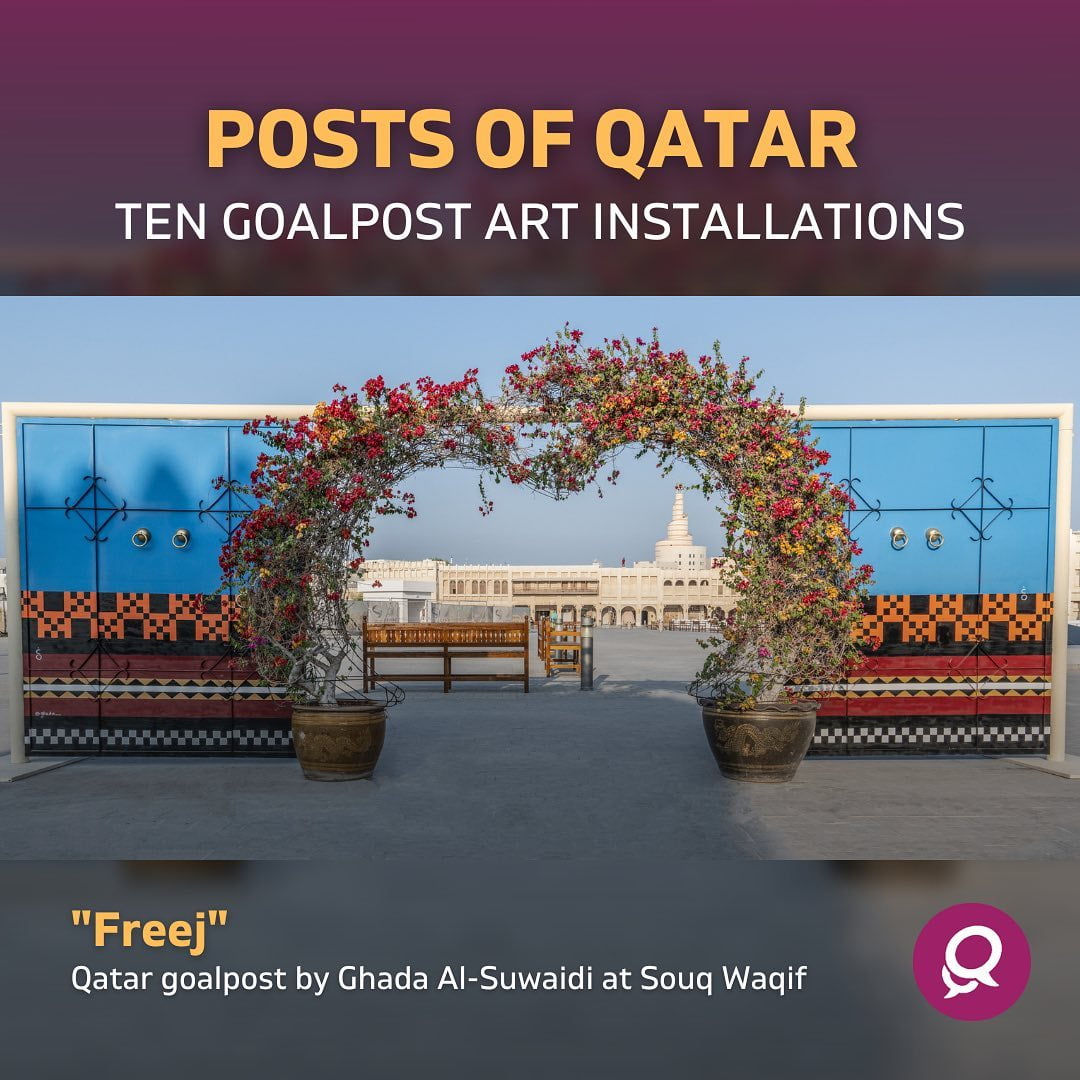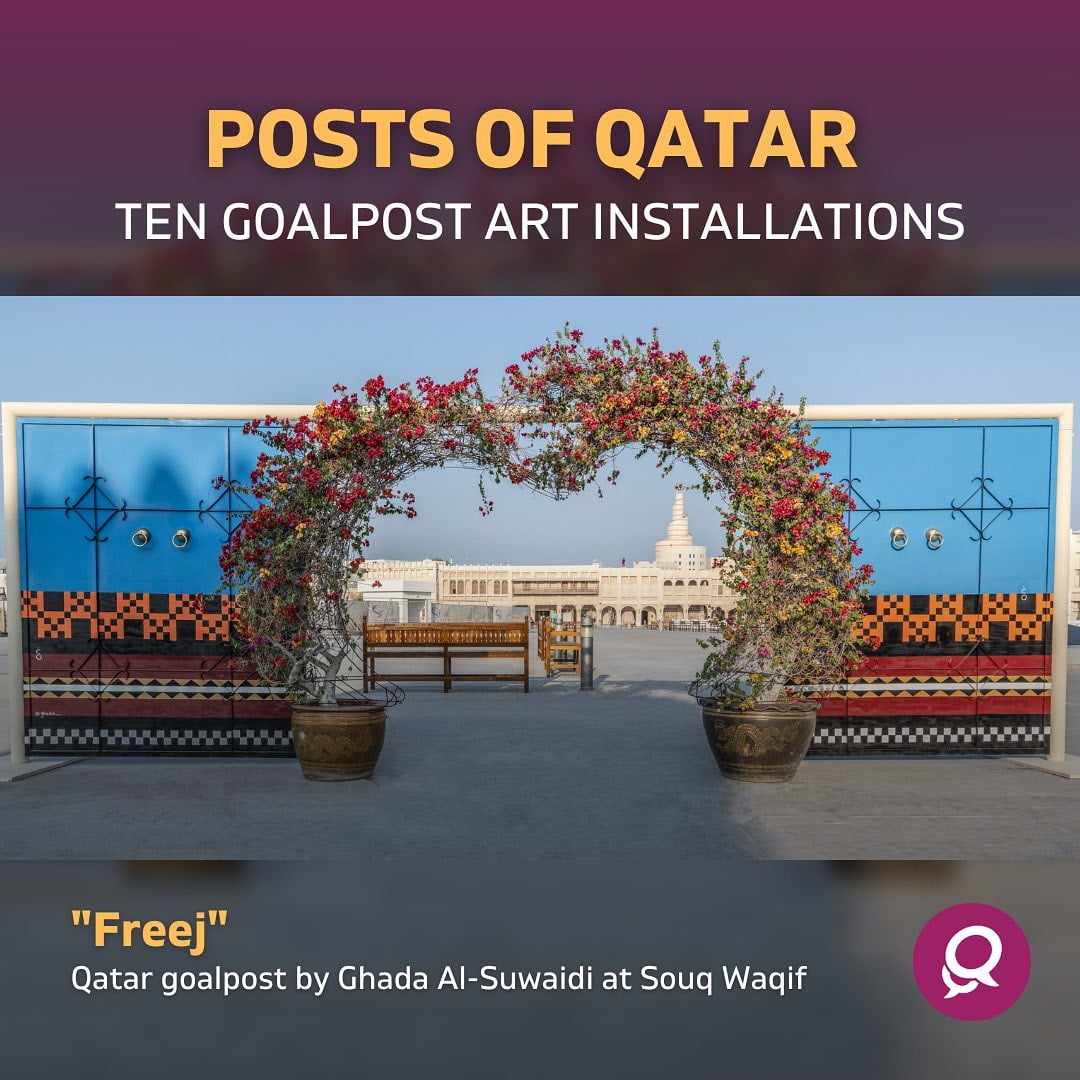 Where The Owl Sleeps by Camila Gondo from Brazil – MIA Park
With so many animals to pick from, Camilla's colourful goalpost honors Brazil's rich woods and incredible wildlife, but it's no accident that she put an owl in one of its upper corners. When football players score in the unreachable top corner of a goal, Brazilians refer to it as scoring "where the owl sleeps". Naturally, the falcon sitting on the opposing side stands in for Qatar. Both majestic birds appear to soar against the glittering Doha cityscape thanks to the installation's location in MIA Park.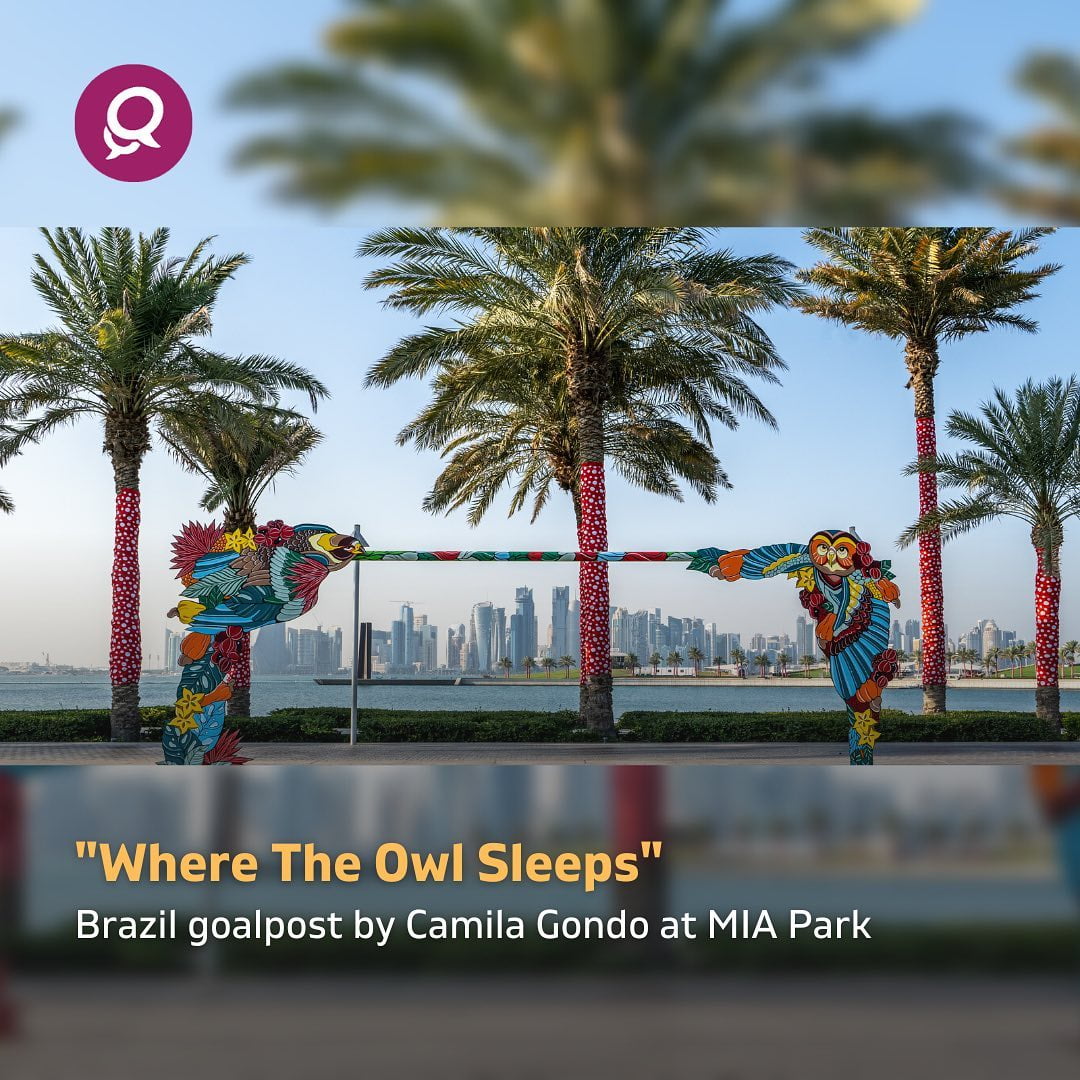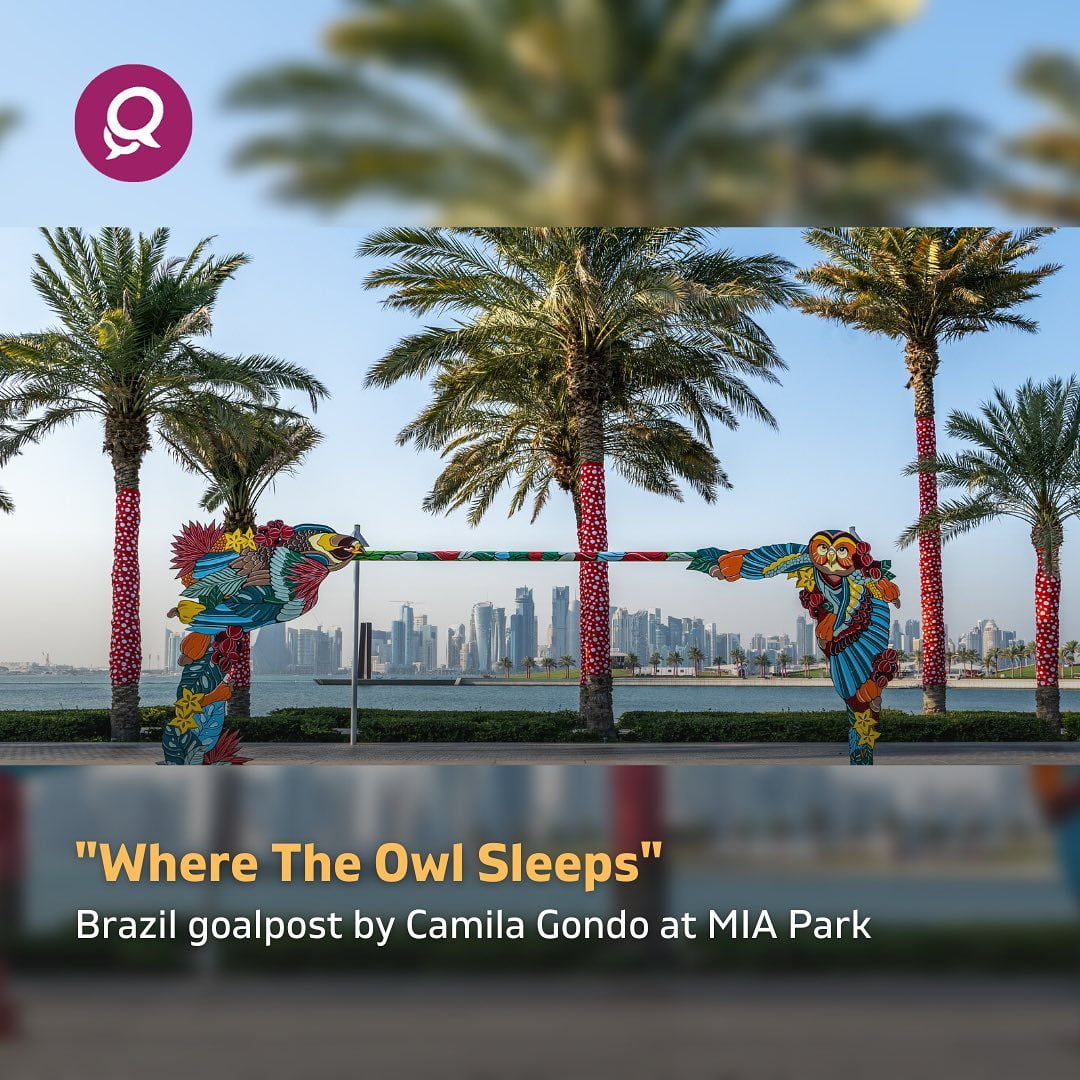 The Shine Of Transformation by Josefina De Leon from Uruguay – Place Vendome
Josefina wondered what the far-flung countries of Uruguay and Qatar might have in common; the first thing that came to mind was that both countries had developed at the most astounding rate in recent decades. Because of this, her goalpost is embellished with hand-painted butterflies that are exquisitely finished in the national colours of Uruguay and Qatar as well as the ethereal natural tones you see all throughout the place. These butterflies serve as a metaphor for how extreme changes can result in unexpected wonder and beauty. They are delicately fluttering in the goalpost frame. Place Vendôme, a posh mall located in the heart of Lusail, Qatar's brand-new metropolis, is where the goalpost was deliberately placed.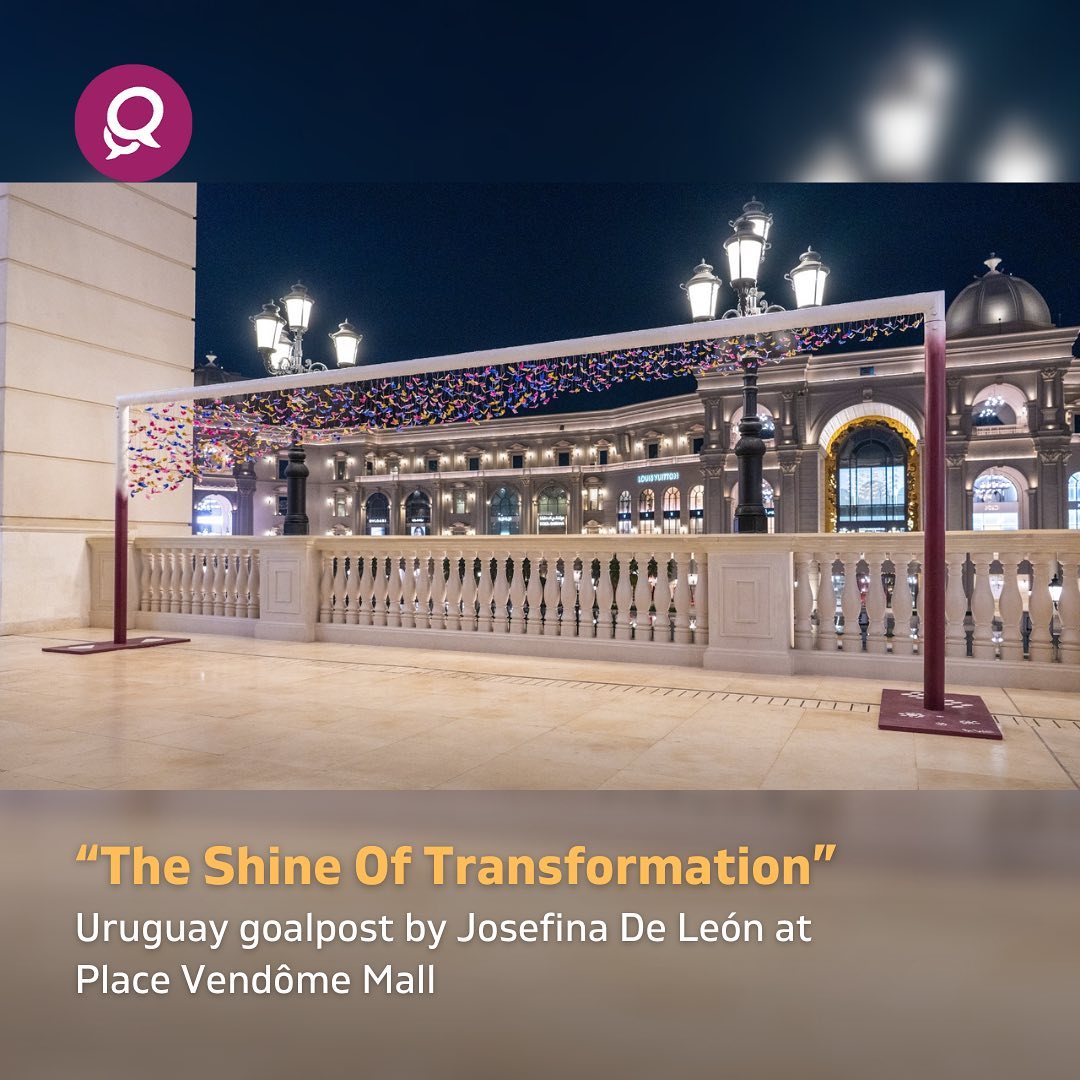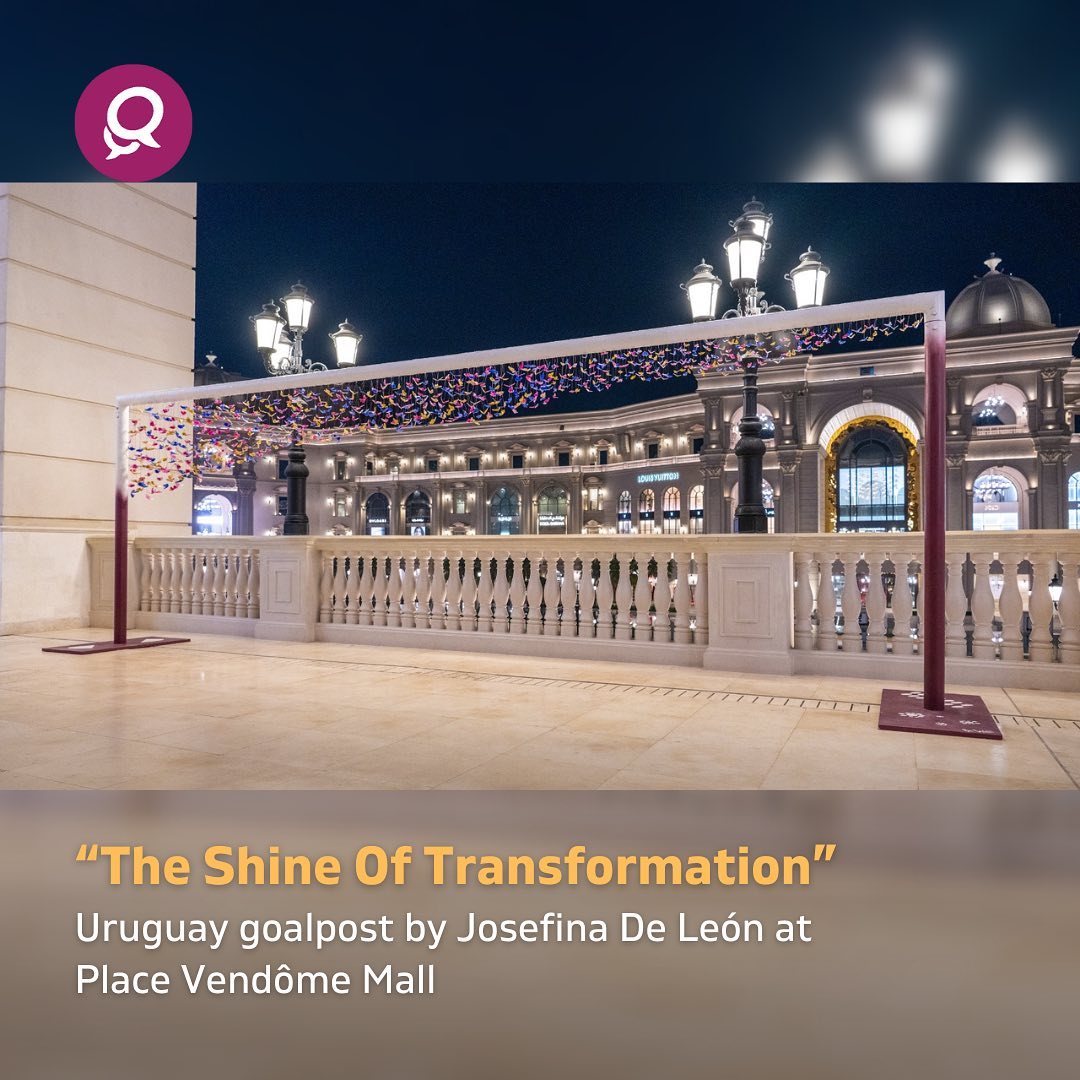 From Spain To Qatar by Jordi Gil Fernandez from Spain – Sealine Beach
The Inland Sea's huge, sweeping sand dunes provide the ideal setting for Jordi's vibrant, graffiti-style artwork. His goal has been to meld cultures in order to have a significant influence. Up close, you can see drawings that depict the culture and history of Qatar and Spain. The banner of the artist's ideology is shown in glittering gold leaf, which also incorporates vibrant colours and makes a not-so-subtle reference to the famous trophy. Enjoying the golden dunes of the Inland Sea is a special spot to combine the exclusivity of art in such a magnificent setting.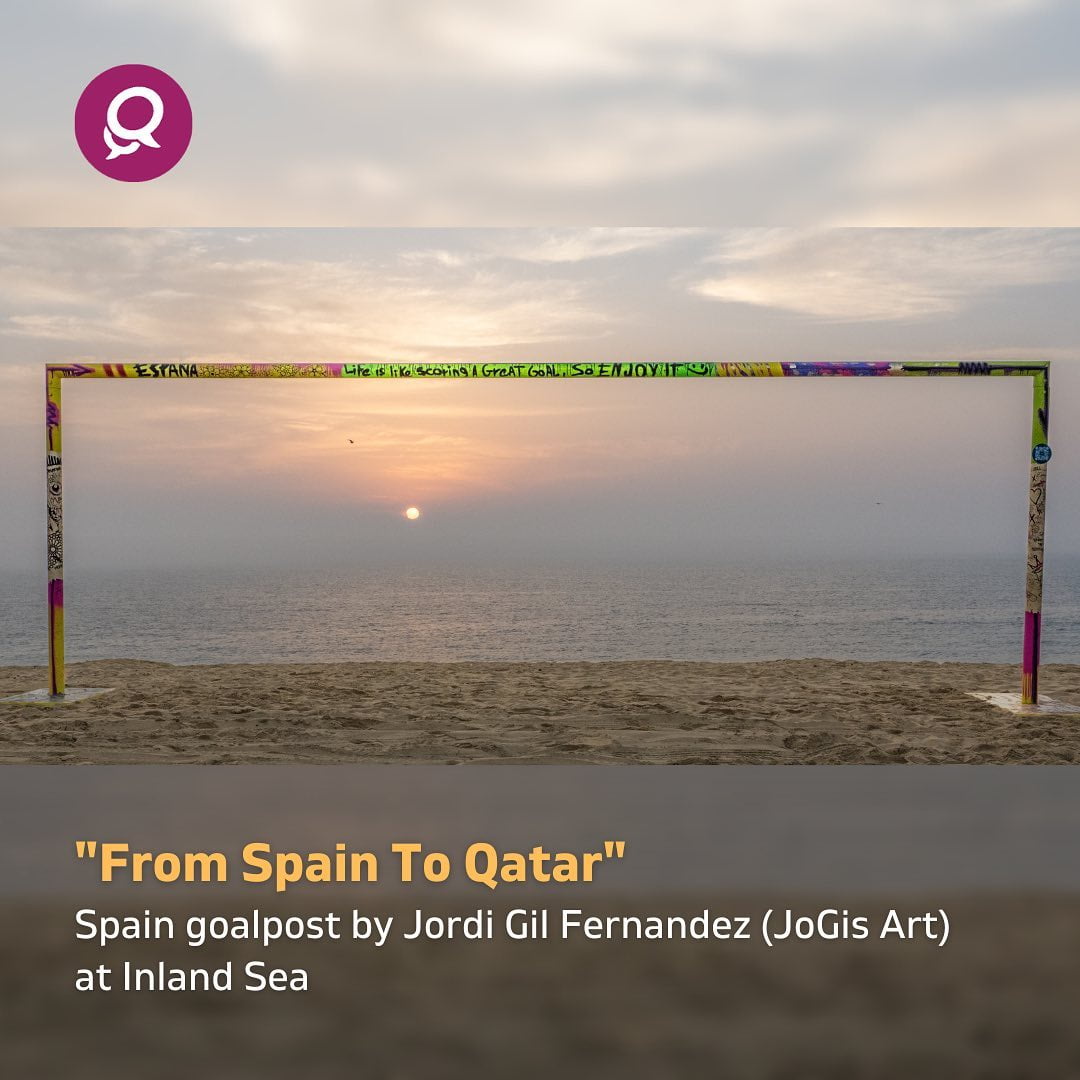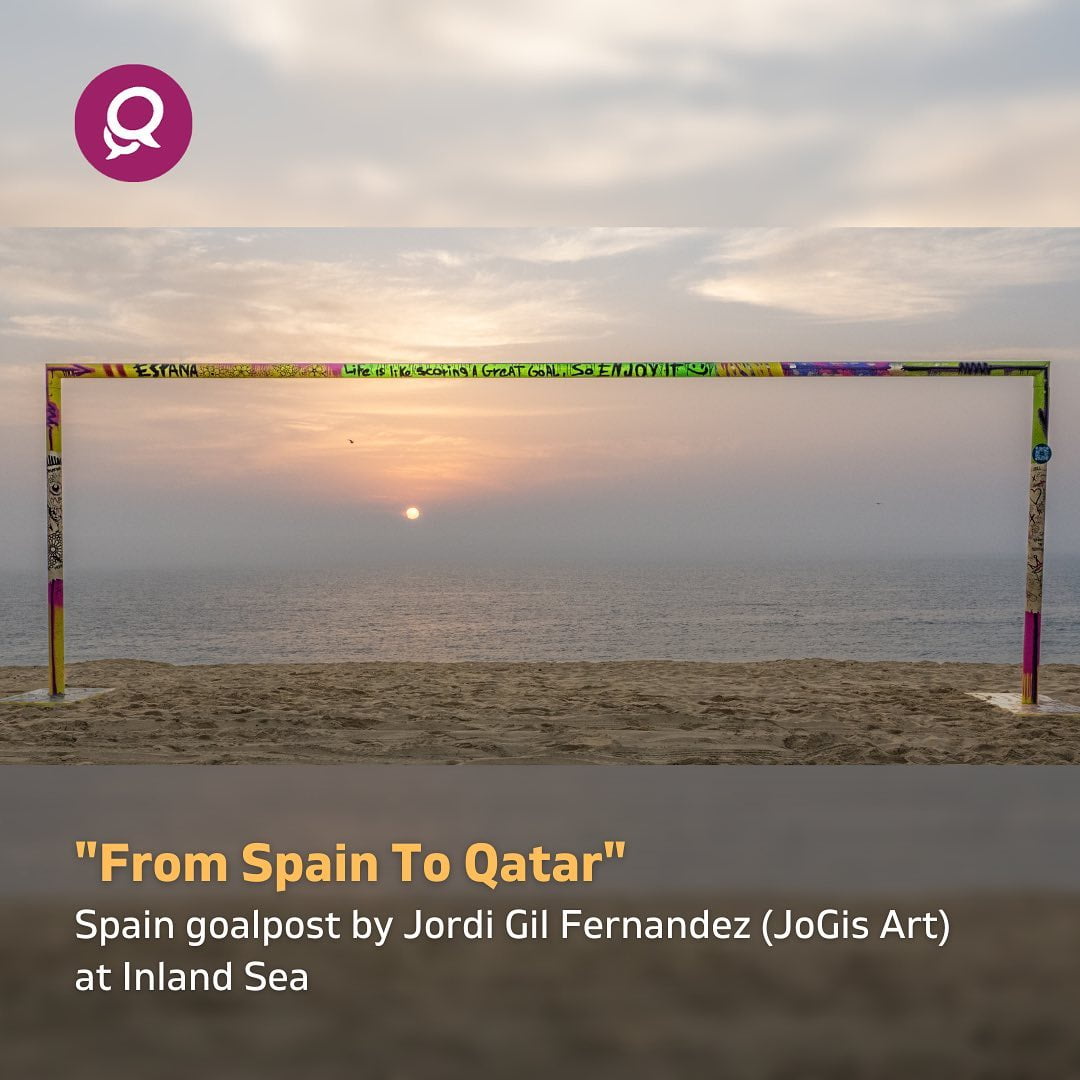 QATARGENTINA by Simo Vibart from Argentina & Fatima Alsharshani from Qatar – Aspire Zone
Rich purples, deep mauves, and swirls of sky blue make up Simo's whimsical goalpost, which alludes to the flags of Qatar and Argentina. Simo collaborated with Qatari artist Fatima Alsharshani to produce the Arabic calligraphy that tops the frame, spelling out Argentina. This is yet another striking example of Argentina-Qatar fusion. The arrangement of the goalposts reflects this attitude of imaginative friendship and respect for other cultures. It may be found in Aspire Park, a gathering place for individuals from different backgrounds to relax and enjoy the outdoors.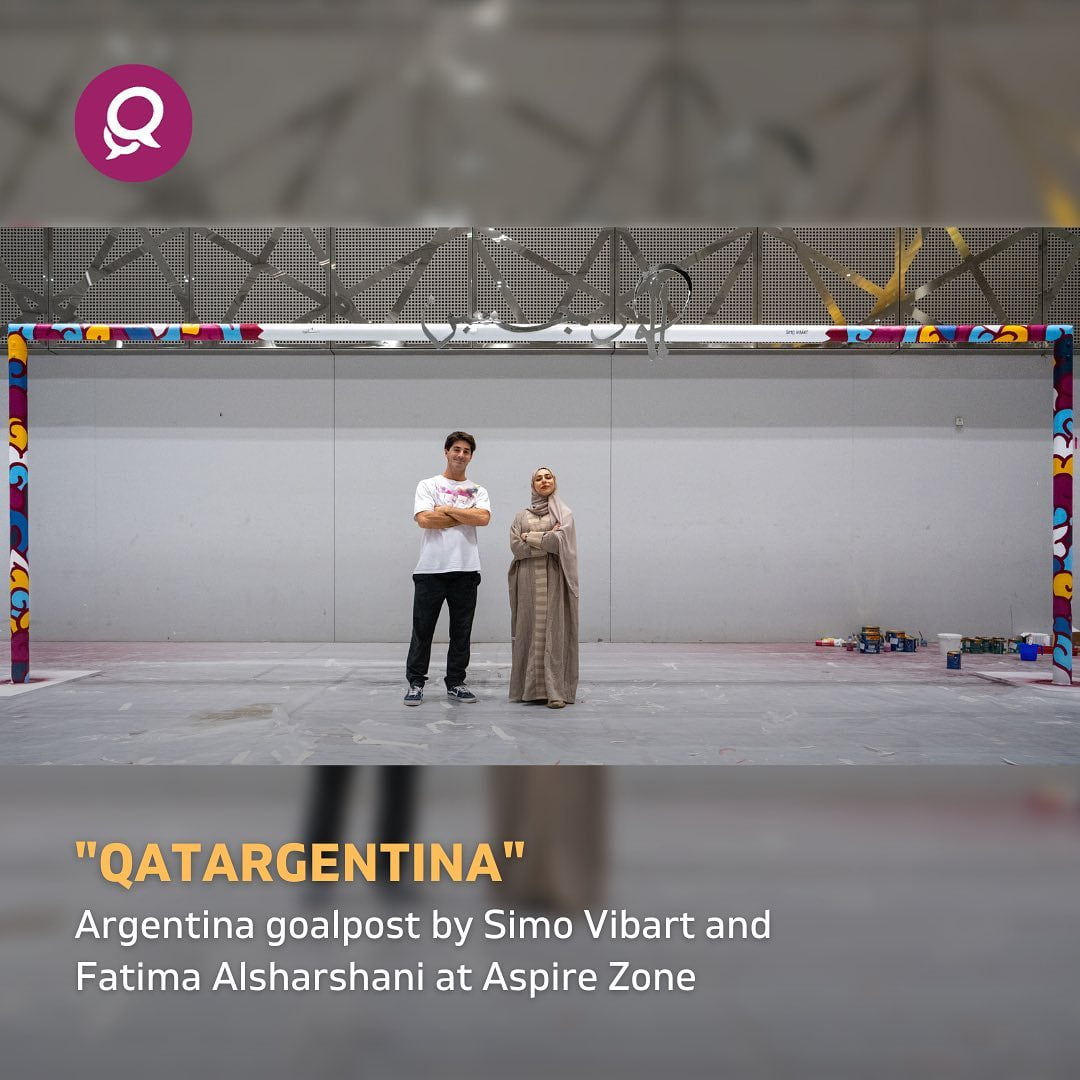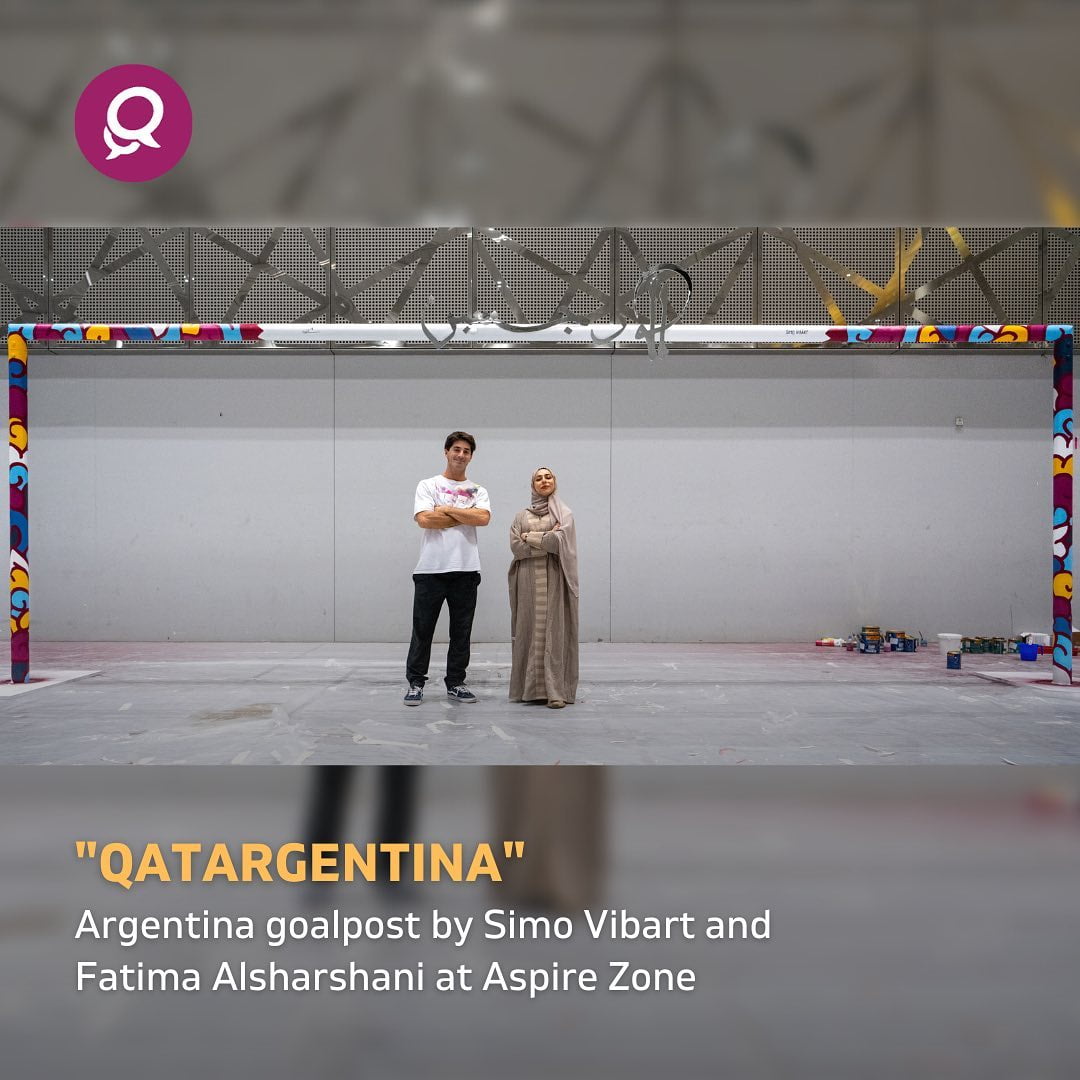 People From The World by Abdulaziz Yousef from Qatar – Flag Plaza
At Doha's Flag Plaza square, where different flags are proudly displayed, renowned Qatari artist Abdulaziz's works are on show. He was given the task of encapsulating all the fans traveling to Qatar in a single goalpost. Abdulaziz did a fantastic job completing the assignment, adding many creative details along with his distinctive hand-drawn figures. With something to appeal to every nationality, this amusing goalpost has won the hearts of many.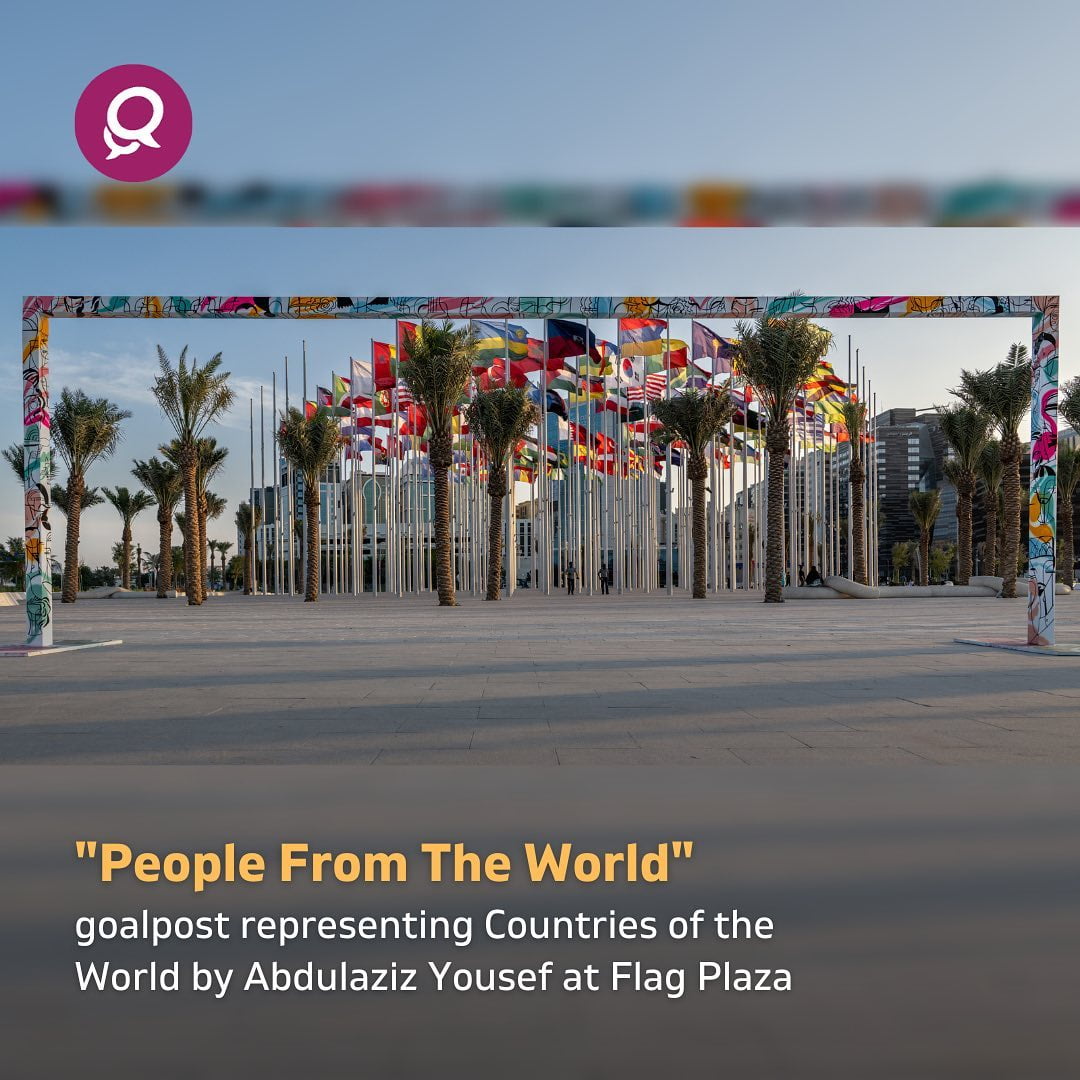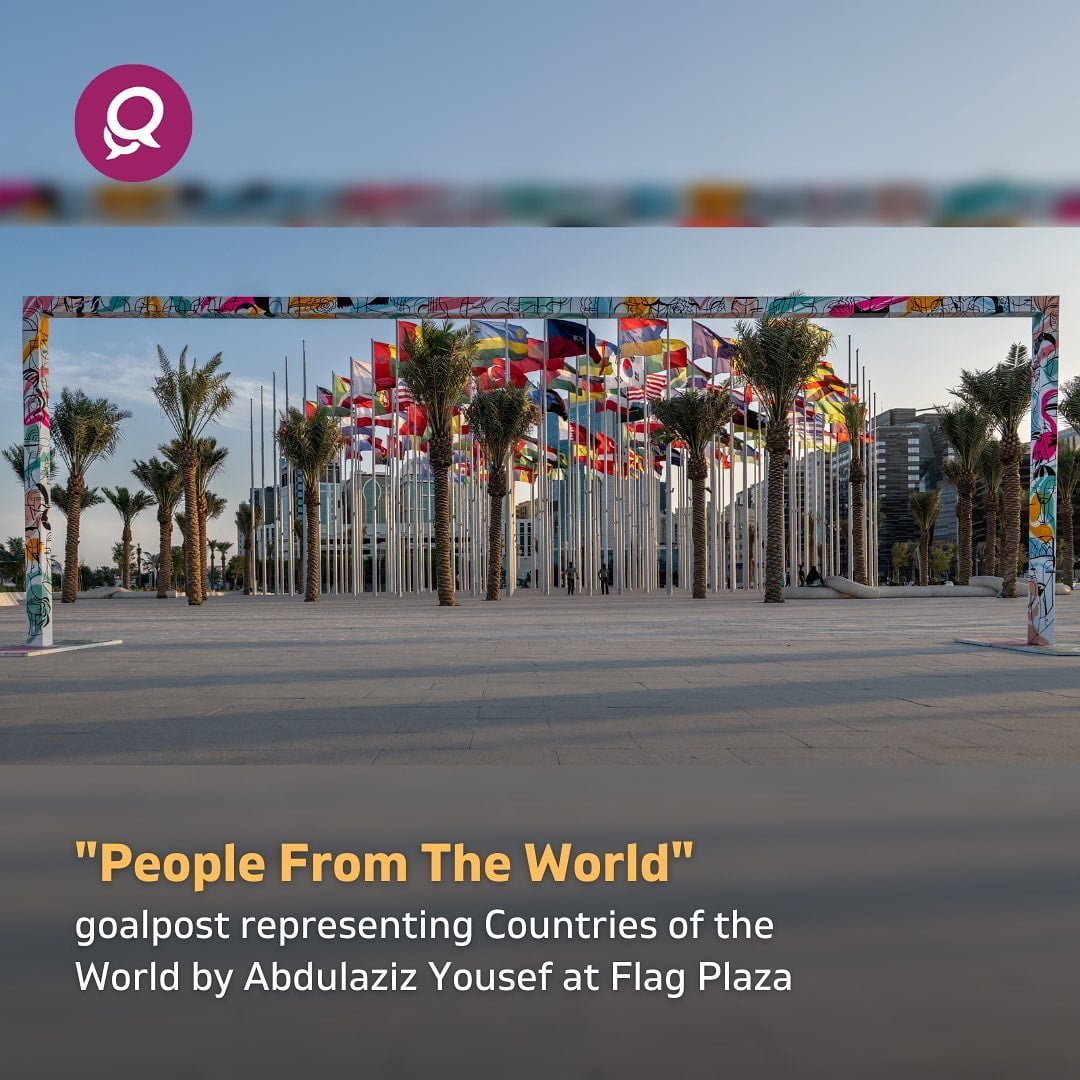 Symmetry by Ale Giorgini from Italy – Katara Cultural Village
Italy's Ale, who always believes that there is more that unites us than separates us, noticed the parallels between Doha's Katara Amphitheatre and Rome's historic Colosseum right away. It turns out that these two distinct nations have a lot in common, from their shared love of art to their innovative architecture and warm personalities that place a strong emphasis on friends and family. This realization served as the inspiration for a creative concept that pairs Italian icons with their Qatari contemporaries.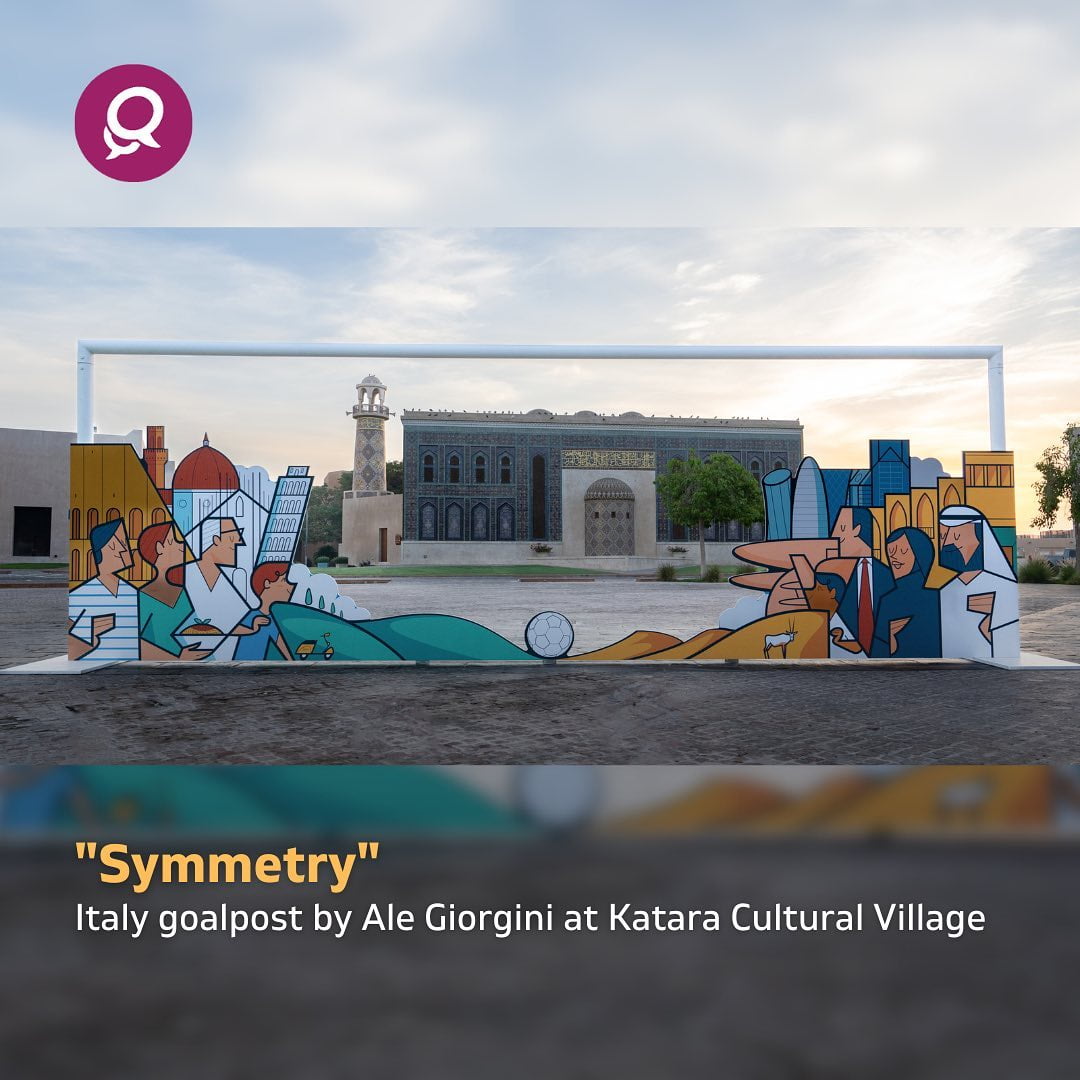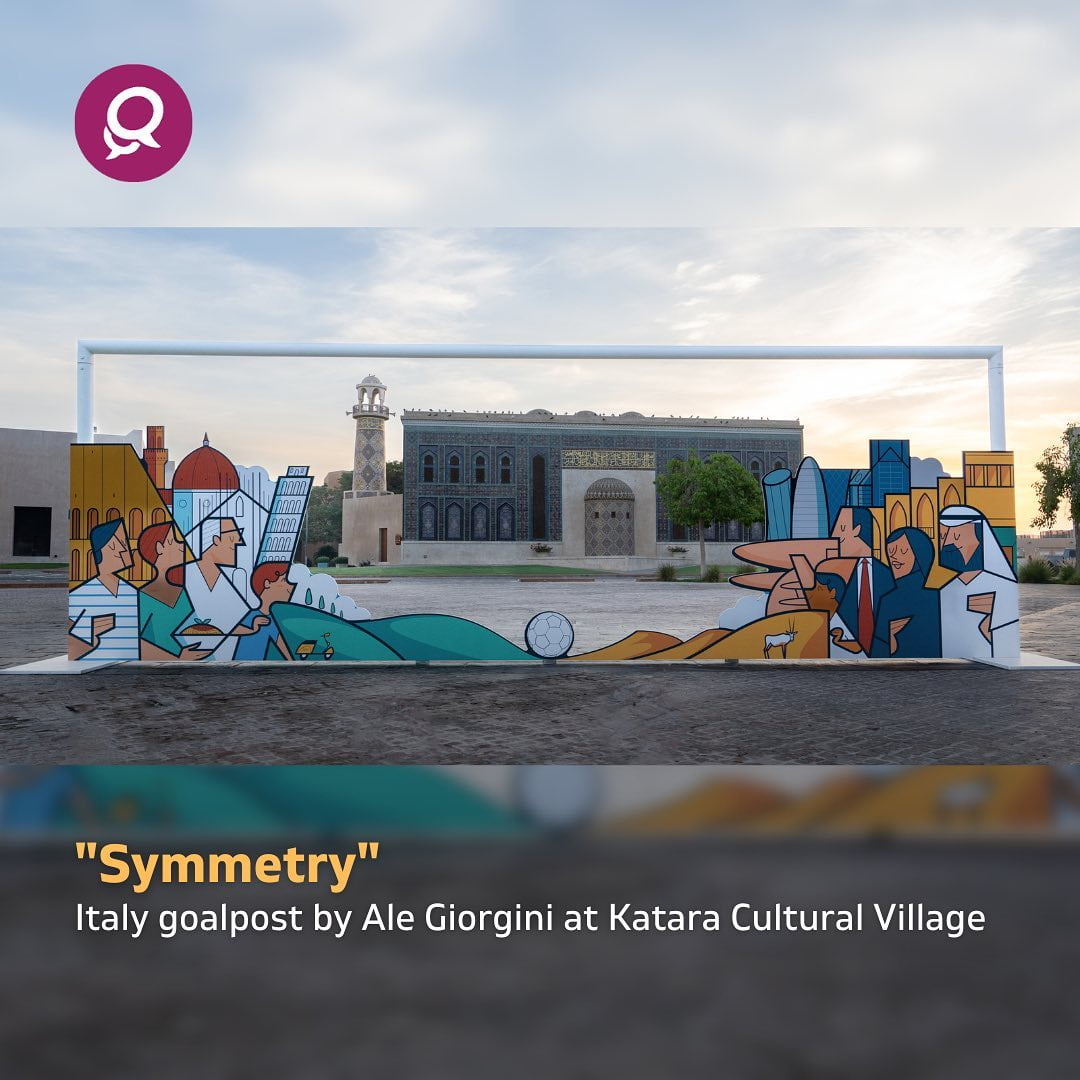 Harmony Shining Through The Rose by KEF from Germany – West Bay Beach
It is obvious that KEF's goalpost was influenced by the Qatari desert rose; the swirls and curves you see are references to the distinctive silhouettes. The circular lines indicate the remarkable capacity of both football and art to unite people from all cultures and nationalities, adding to the symbolism at play here. The dashes of maroon, yellow, red, and black, which all refer to Qatar and Germany's national colours, are obviously significant as well.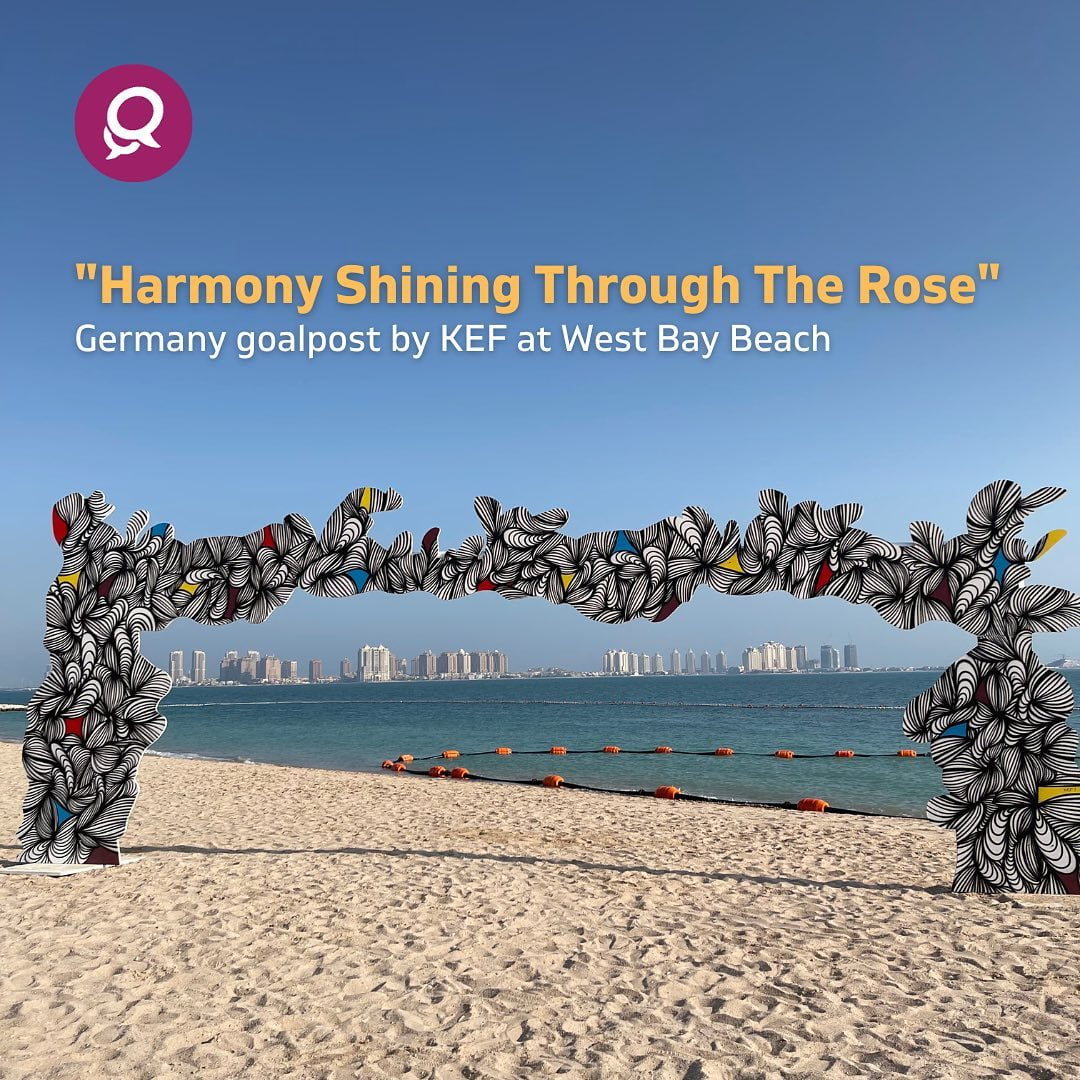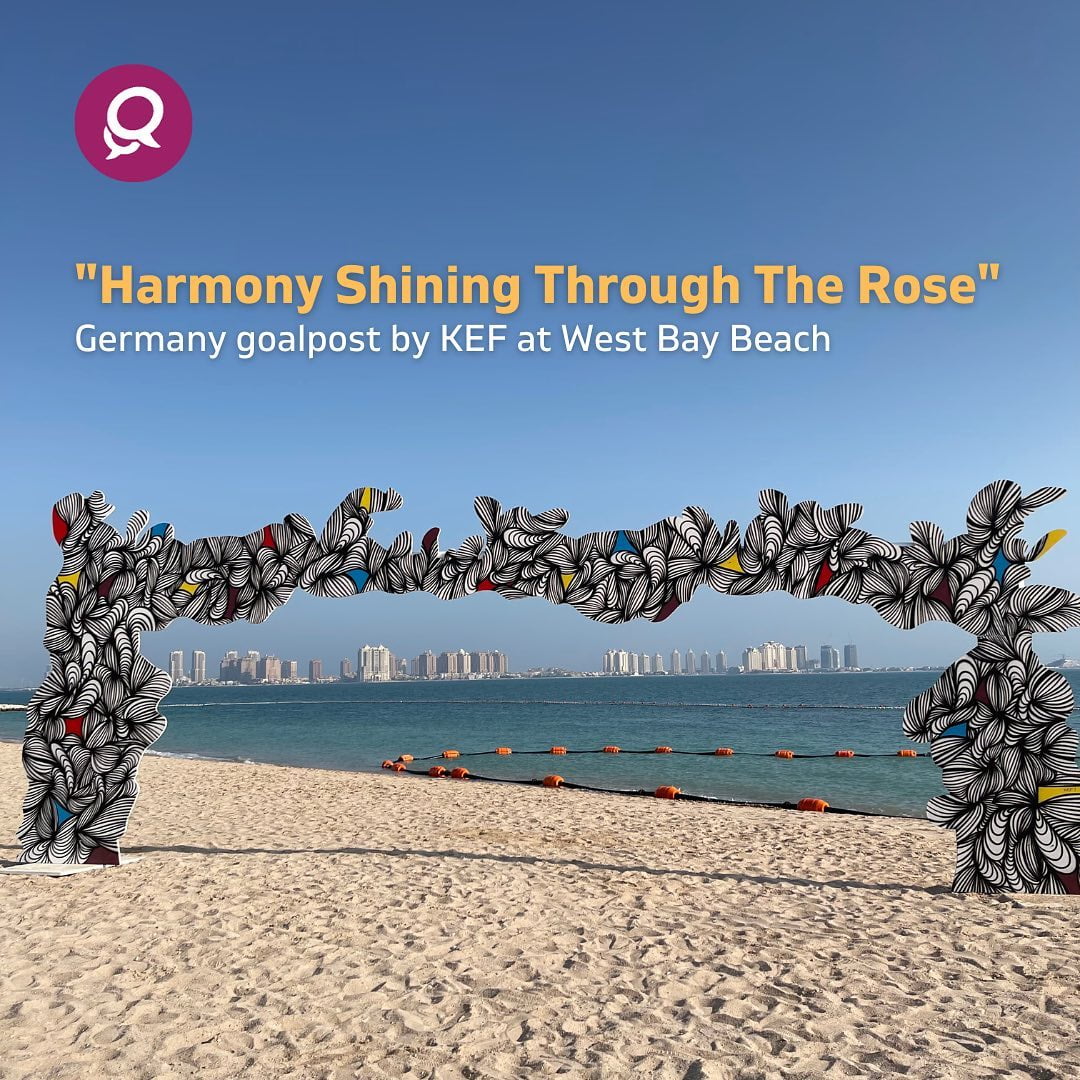 Sails, Moving Forward by Guillaume Rouseré & Maryam Faraj Al-Suwaidi – The Pearl
You will undoubtedly see this goalpost and its shimmering metallic dhow sails sparkling in the sunlight if you go around The Pearl-Qatar. However, if you get a little closer, you'll start to hear poetry being whispered in both Arabic and French, which the sails themselves reflect and amplify. Guillaume, a well-known sound artist, collaborated with a local artist named Maryam Faraj Al-Suwaidi to produce an immersive ode to France and Qatar. Since their individual artist residencies at the Doha Fire Station, Guillaume, and Maryam have become friends. Their tale of how two artists from very different cultures were able to connect via their art gives this spectacular sculpture a new perspective.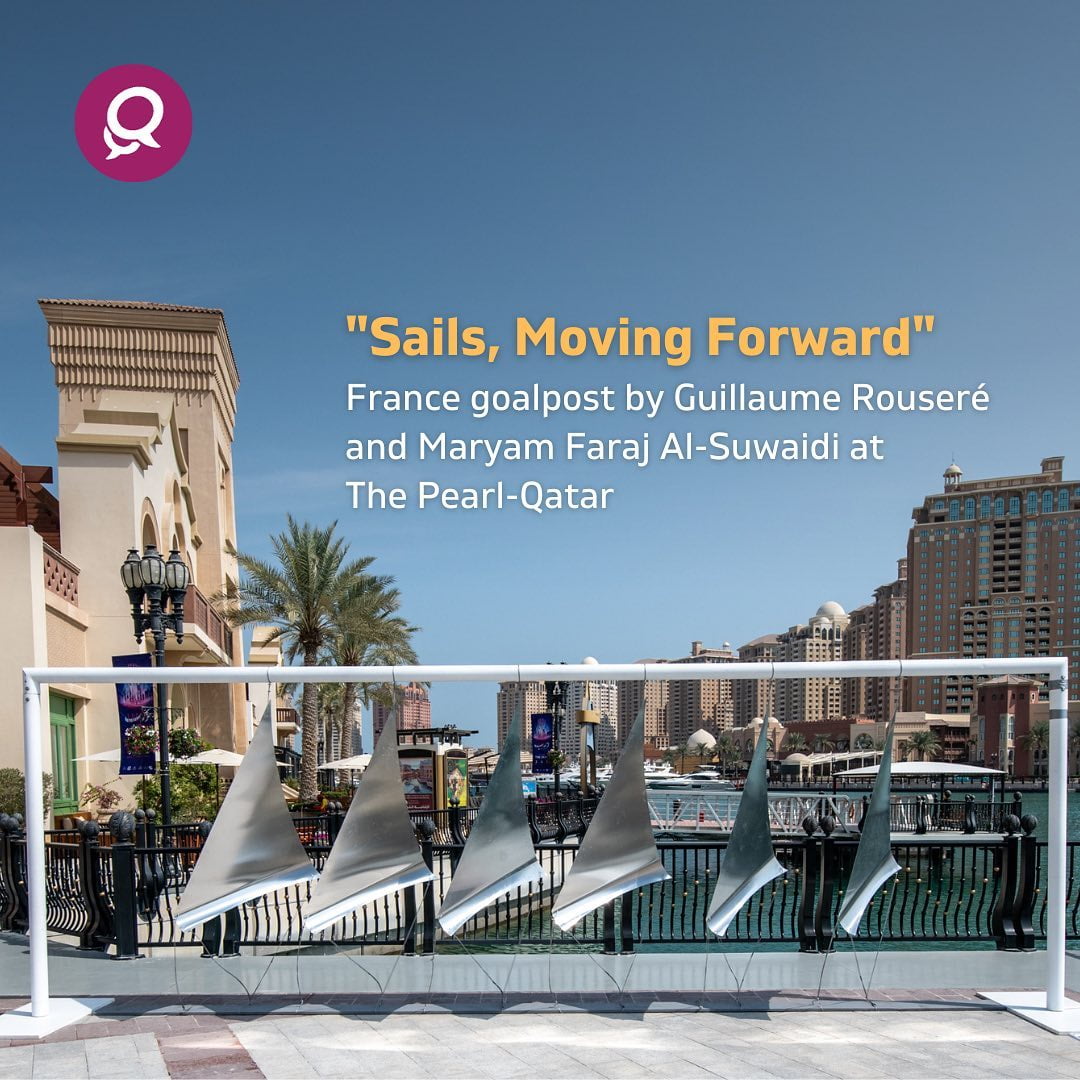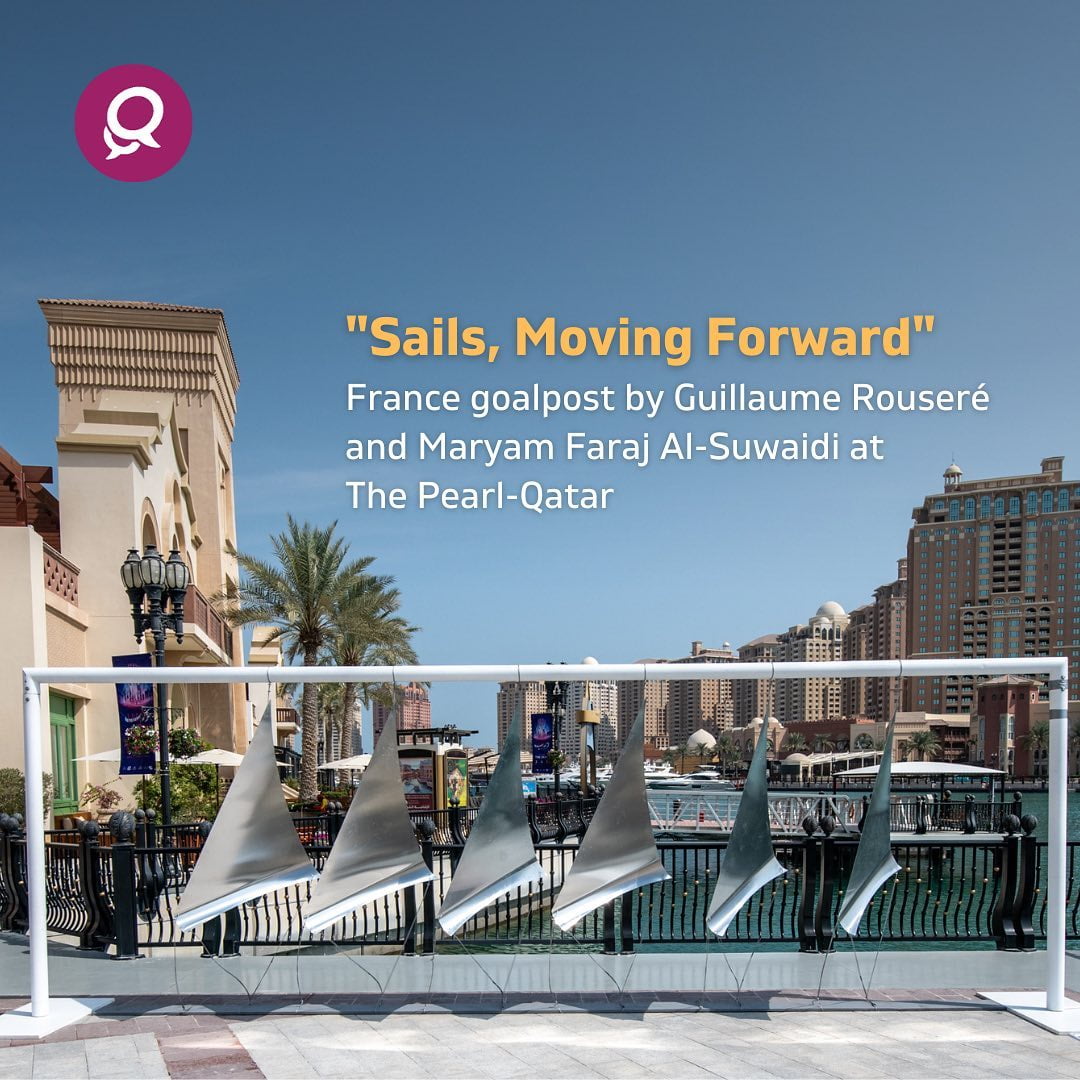 Sailing Forms by Hugo Dalton from England – Lusail Marina City
Hugo Dalton's goalpost, located by the shore in Lusail City Marina, was inspired by England and Qatar's shared heritage as maritime nations. The sweeps of cloth that encircle the pillar make references to the three lions of England, St. George's Cross, and traditional Qatari dhow boats' triangular sails. One can see the elegant motions of a young player in motion as depicted by the artist and a sea of English flags being enthusiastically waved by supporters as they watch their team compete as they ripple in the breeze. The nation's triumph in 1966, when the England team won the World Championship, is commemorated by the gold frame.