Business
QIB nominated as the 'Best Islamic Bank in Qatar' by Islamic Finance News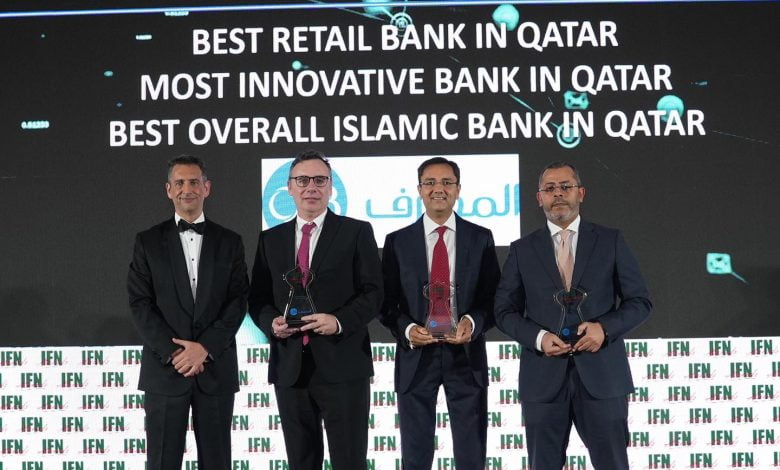 Islamic Finance News (IFN), the world's leading Islamic finance publication and news provider, has recognized Qatar Islamic Bank (QIB) as the "Best Islamic Bank in Qatar." QIB also received two additional accolades, "Most Innovative Bank in Qatar" and "Best Retail Bank in Qatar," at the IFN awards ceremony held in Dubai, which was attended by QIB's senior management.
Record Number of Votes Cast in the IFN Best Banks Poll
QIB achieved this recognition by receiving a record number of readers' votes at the 18th annual edition of IFN's Best Banks Poll, a unique barometer for Islamic banking performance in 35 countries and one of the most prestigious accolades in the world of Islamic finance. Over 38,000 votes were cast by IFN readers, making the IFN Best Banks Poll 2022 the largest poll in its 18-year history.
QIB's Year of Excellence
QIB maintained its longstanding position as the largest Islamic bank in Qatar thanks to its exceptional approach to Islamic banking, which included investing in award-winning technologies and implementing innovation in its Shari'a-compliant offerings. QIB continued to develop and streamline its services and processes, with its acceleration of its bank-wide digital transformation program, which successfully translated into an increase of sales and revenue, a significant migration of branch transactions to digital channels, and a reduction in costs that helped the bank achieve the best cost-to-income ratio in the MENA region.
Impressive Financial Results
QIB registered 12.7% profit growth, reaching QAR 4,005 million for the fiscal year 2022, and generating a return on equity (ROE) of 17.8%, a return on assets (ROA) of 2.1%, and the lowest efficiency (cost/income) ratio of 17.4%. These results delivered the best ratios in the Qatari market to its shareholders.
CEO's Comments
Bassel Gamal, QIB's Group CEO, expressed his pleasure at receiving the awards, saying that they are a testament to QIB's efforts to continuously improve and digitize the Islamic banking experience for its customers. He added that QIB would continue to revolutionize Islamic banking by providing world-class banking solutions to meet the personal and financial aspirations of its customers, enhancing its digital products and services for an even simpler, faster, and always secure banking experience. He thanked IFN readers who participated in the poll and reaffirmed QIB's commitment to providing exceptional customer service.
About QIB
Qatar Islamic Bank (QIB) was founded in 1982 as the first Islamic financial institution in Qatar. Today, it is the largest private bank in the country, with more than 170 ATMs, 22 branches, and 40% of the total assets of domestic Sharia-compliant banks. It is also the second-largest bank in Qatar with a market share of just over 11% of assets, financing, and deposits.
QIB offers modern banking services through its branch network throughout Qatar, which includes specialized relationship managers in key branches for specific customer segments such as private banking, affluent banking, and ladies-only banking centers. QIB provides Sharia-compliant banking solutions for individuals, government institutions, large corporations, and SMEs in all segments of the financial market.
In addition to its domestic business, QIB has established an international presence in key markets to serve the cross-border needs of its customers and develop a focused presence in geographies with high interest in Islamic banking services. QIB-UK, a subsidiary established in 2008, covers the financial needs of Qatari individuals and companies in the United Kingdom. The bank also has a presence in Lebanon through Arab Finance House and one branch in Sudan.
QIB's growth strategy is closely tied to Qatar's National Vision 2030 and the government's commitment to investing in the country's infrastructure, diversifying the economy, and developing a diverse and sustainable private sector. The bank has made significant efforts to digitize the banking experience for its customers, offering a 24/7 service through its award-winning Mobile App and Internet Banking platforms, and has embarked on a bank-wide digital transformation to make the use of all key products and services simpler, faster, and more convenient for customers.