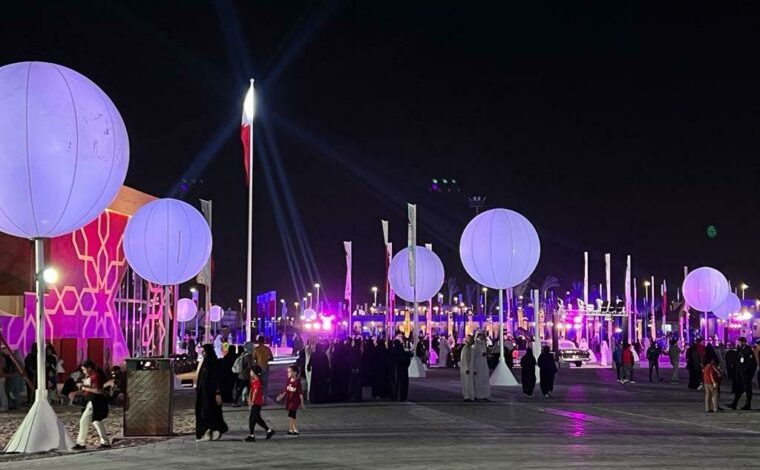 The grounds of Darb Al Saai have long served as a venue for tourists to gain knowledge about the rich history and culture of the Gulf country. There are also a ton of activities offered to include amusement for guests of all ages. However, due to the 24-day celebration's proximity to the FIFA World Cup Qatar 2022TM, the festival were relocated to a significantly larger venue this year to accommodate more guests and increase the amount of events. Here is our tour guide which you can use to explore the area.
Meaning of its name
According to a pan-Arab news website, Al Araby Al Jadeed, its name, "Darb Al-Saai," translates to "the messenger's route" and refers to the path used by representatives of Qatar's founder, Sheikh Jassim bin Muhammad bin Thani, to convey his messages and instructions to both internal and external parties.
Purpose of the place
Due to its numerous events and programmes that are well-liked by all facets of Qatari society, Darb Al Saai stands out during the country's National Day celebrations. The National Day events are held in a location called Darb Al Saai that resembles the historic city of Qatar. It is not just a venue to rejoice; all groups can attend a cultural and heritage event there. The neighbourhood is separated into several sections that represent Qataris' former way of life. The next generation is meant to be connected to the state's national heritage and ancestors' legacy.
Officials and Ministers visit
Khaled Mashal, the leader of the Hamas organisation, and H.E. Ahmad Bin Abdulla Bin Zaid AL Mahmoud, H.E. Abdulla bin Khalifa Al-Attiya, H.E. Sheikh Ahmed bin Jassim Al-Than, and H.E. Jassim Saif Ahmed Al-Sulaiti, Minister of Transport, visited Darb Al-Saai in Umm Salal in earlier December this year. They were given a tour of the events hosted in Darb Al-Saai by H.E. Sheikh Abdulrahman bin Hamad Al Thani, Minister of Culture, and informed about the Al Shaqab neighbourhood, the Darb Al Saai Market, Al Bidda and Al Izbah, Liwan Art, and other varied events.
Location of the area
The new Darb Al Saai site in Umm Salal Mohammed boasts top-notch amenities, services, and public spaces that improve guests' experiences at events while also ensuring their comfort and safety. In a fresh and original approach, its design showcases the genuine architectural legacy of Qatar. The location features a vast parking lot that can hold over 3,500 automobiles and is easily accessible from three main highways as well as the Doha Metro through the Old Rayyan Station on the Green Line. Additionally, five service gates and seven major entry gates are connected to the parking, greatly enhancing traffic flow.
Activities at Darb Al Saai
Through cultural activities, main events, literary, intellectual, and artistic seminars, exhibits and competitions, two museums, traditional games and crafts, and workshops, Darb Al Saai offers tourists events and activities that emphasise Qatari culture and original history. Visitors can look forward to a wide range of cultural activities, including literary and intellectual conferences, poetry readings, concerts, literary forums, theatrical productions, exhibitions, and art workshops, as well as adult and youth educational and cultural events. In Darb Al Saai, theatre is a crucial component of cultural activity. People can attend literary, intellectual, and cultural lectures as well as theatre productions, poetry readings, and concerts. Cultural and creative events held in the theatre every day.
Al Bidda event
The Qatari maritime history is documented during the Al Bidda event, which takes place at Darb Al Saai. The historical neighbourhood close to the water is called Al Bidda. Because of Al-rich Bidda's Qatari legacy, which shows the affinities and compassion that bound the locals together, it frequently draws a large crowd. Along with customary folk games and cultural events, Al Bidda has the Majlis, Bait Al Mutawa (the home of a religious scholar), the traditional Café, Majlis Al Nokhatha (the home of a dhow captain), Al Nahham, and Akkas Al Freej (the local photographer). An authentic facet of Qatari people's life is represented by the Al Hosh (the yard) festival. It served as the family and kids' daily escape and the setting for a lot of family activities.
Al Shaqab area
Visitors of all ages are catered to at the Al Shaqab neighbourhood. Its significance stems from the variety of activities and events it offers, including historic displays, carriage rides, and horse shows, which cater to all interests. Visitors can learn about Qatari legacy in terms of breeding, taming, and many uses of Arabian horses in the past by attending Al Shaqab's event. By giving women a unique location to ride horses and learn about Arabian horse traits, the event this year also hopes to involve women.