Business
Trade volume between Qatar & Vietnam touches QR2bn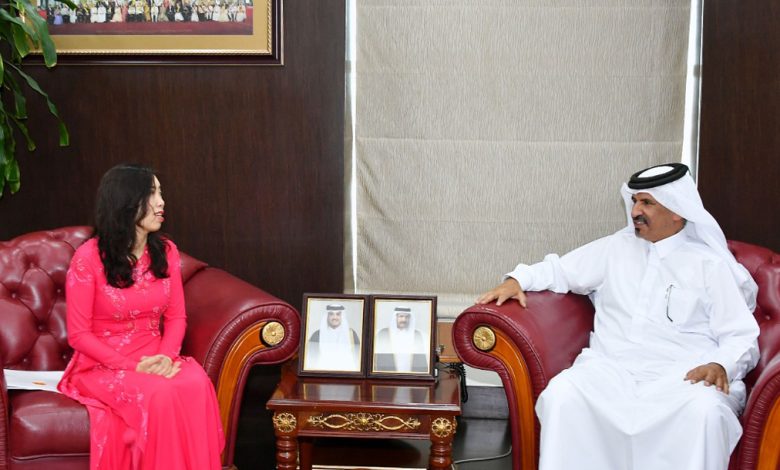 In a meeting held on Monday, Qatar Chamber's First Vice-Chairman, HE Mohamed bin Twar Al-Kuwari, discussed economic and commercial relations with HE Deputy Minister of Foreign Affairs of the Socialist Republic of Vietnam, Le Thi Thu Hang. The purpose of the meeting was to explore ways of strengthening cooperation between the private sectors of both countries in various economic sectors and review investment opportunities.
Vietnamese Minister Urges Qatari Investors 
HE Deputy Minister of Foreign Affairs, Le Thi Thu Hang, praised the close relations between Qatar and Vietnam and called for Qatari investors to explore the numerous investment opportunities available in various sectors of Vietnam's economy.
Encouraging Qatari Businessmen 
HE Mohamed bin Twar expressed the eagerness of the Qatari private sector to explore business and investment opportunities in Vietnam. He noted that Qatar Chamber encourages Qatari businessmen to take a closer look at the investment environment and opportunities in Vietnam.
Trade Volume Grows 
HE Mohamed bin Twar highlighted that the trade volume between Qatar and Vietnam increased by 33% from QR 1.5bn to QR 2bn. This growth rate reflects the strong commercial relations between the two countries and the mutual desire to strengthen these relations.
Qatar and Vietnam Relations 
Qatar and Vietnam maintain a bilateral relationship that dates back several years. The State of Qatar has an embassy in Hanoi, while Vietnam has an embassy in Doha. The two nations enjoy a friendly relationship that is unique among Arab countries, owing to Qatar's strong ties with several ASEAN nations, including Vietnam.
Qatar's Growing Interest in Vietnam
Following Vietnam's successful economic reforms in 1986, it has become an attractive destination for Qatari investors. While the United Arab Emirates remains the largest Gulf Arab investor in Vietnam, Qatar has been making significant investments in the country, focusing mainly on agriculture, energy, exports, and trade. According to the Qatari envoy to Vietnam, these investments have been greatly successful.
Vietnamese Expats in Qatar
The Qatari population boasts of over 10,000 Vietnamese expatriates living in the country. These expats are an integral part of the country's workforce and play a significant role in the economy. They contribute to the country's growth and development and have helped cement the relationship between the two nations.