Entertainment
All you need to know about 60th Katara QatART Handmade Market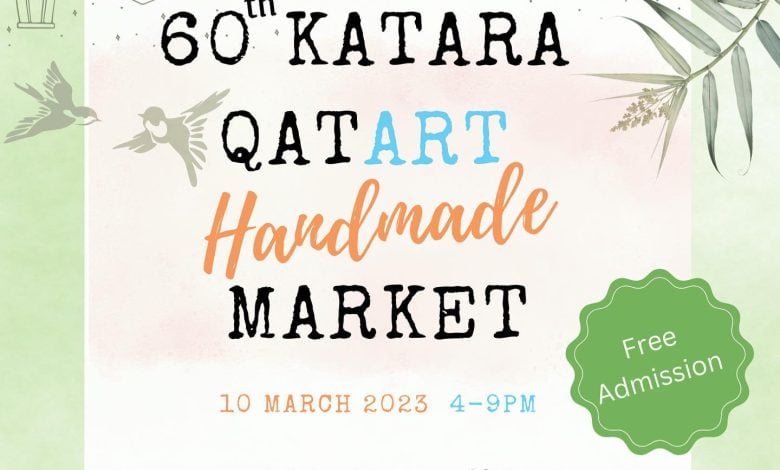 On March 10, 2023, from 4 to 9 p.m., QatART Community cordially invites everyone to our 60th Katara QatART handcrafted market. Many attractions for this unique spring festival will be revealed in the following days. QatART is a community of artisans and crafters based in Qatar who create and promote handmade products. It was founded in December 2011 by Dominika Bozic and Gabi Pezo, and today, it has 48 members from 21 countries.
Handmade Products
QatART offers a wide range of handmade products, including jewelry, accessories, paintings, illustrations, graphic design, craft kits, bags, clothes, home decor, and accessories, photography, handcrafted cards and boxes, and homemade food and party supplies. These products are unique and not mass-produced, and they are sold at arts and crafts markets around Qatar.
Platform for Local Artisans
QatART provides a platform for locally based artisans to promote their arts and crafts products through their newsletters, social media presence, and handmade markets. Members are also free to use the space and equipment and can display their work for two weeks for free at Inspiration Station.
Benefits for Members
QatART organizes free workshops for members to help them improve important skills for their personal and business development. Members also have discounts on art supplies at an arts and crafts shop and on every workshop organized by Inspiration Station.
Multinational Members
The group now consists of 48 individuals from 21 different nations, including Australia, Bahrain, Brazil, China, Croatia, Ecuador, Egypt, Finland, Italy, India, Jordan, Lebanon, New Zealand, Pakistan, Poland, Portugal, Spain, Sri Lanka, USA, UK, and Venezuela. Each of them creates unique things that are never in any manner mass manufactured. Items are offered for sale in fairs for arts and crafts all around Qatar, and some artisans also provide bespoke work.
Community and Social Aspects
Membership in QatART allows artisans to meet and make friends with like-minded individuals. Get-togethers, "crafternoons," and familiar friendly faces at many of the markets add to the experience. One of QatART's main philosophies is sharing, and members are encouraged to share information, pool resources, trade tools and materials, and exchange advice.
Collaboration and Future Plans
In March 2014, QatART organized its own handmade market at Katara Art Studios Courtyard. The group plans to organize more events like this once or even twice a month. QatART's future plan is to establish a community that is a key player in the creative development of Qatar. They want to build the professionalism and skills of their members through workshops and classes, to grow their membership so that it can reach a wider audience.