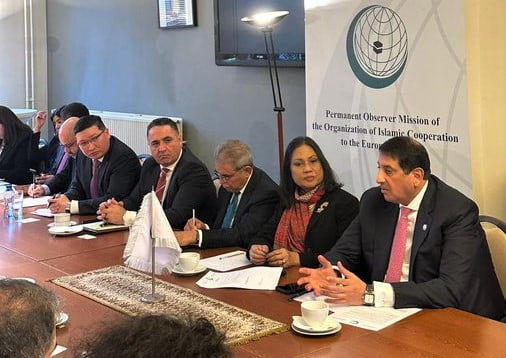 The Organization of Islamic Cooperation (OIC) Permanent Observer Mission to the European Union (EU) in Brussels hosted a meeting of its member states' ambassadors on Thursday, and the State of Qatar attended.
The State of Qatar was represented at the conference by HE Abdulaziz bin Ahmed Al Malki, Ambassador of the State of Qatar to the European Union and the North Atlantic Treaty Organization (NATO). In his remarks, His Excellency noted that the Palestinian issue is still unresolved and emphasised the fait accompli policy imposed by the settlement occupation in the face of a failure to carry out decisions of international legitimacy, which may change the future terms of conflict and the nature of international solidarity. His Excellency emphasised the need to pressure Israel to end its occupation of the Palestinian territories and create a Palestinian state within the boundaries of 1967 with East Jerusalem as its capital, as well as Qatar's full solidarity with the comradely Palestinian people in their aspiration for justice.
In order to exchange ideas on important issues and advance the organization's involvement with the EU, His Excellency also emphasised the necessity for frequent meetings and improved coordination within the OIC Mission to the EU.