Top 5 News
Qatar-MENASA 2022 Year of Culture honors Flag Plaza's art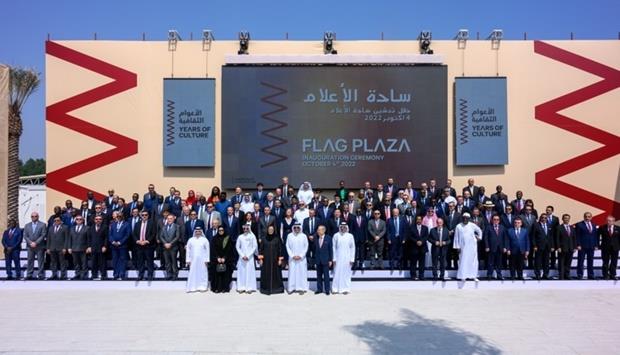 On Tuesday, H.E. Sheikh Mohammed bin Abdulrahman Al Thani, Deputy Prime Minister and Minister of Foreign Affairs of Qatar, along with HE Salah bin Ghanim Al-Ali, Minister of Youth and Sports, and H.E. Sheikh Abdullah bin Hamad bin Jassim bin Hamad Al Thani, Minister of Culture, inaugurated Flag Plaza, a new community space created by the Years of Culture programme, which is marking its tenth anniversary.
The annual Years of Culture programme was first unveiled when Qatar won the bid to host the FIFA World Cup Qatar 2022TM. It is an international cultural exchange that deepens understanding between countries and their people. At the inauguration ceremony, members of the Qatar Armed Forces Band Regiment played, and flags representing the 119 countries whose diplomatic missions are officially recognized by the state were raised, along with the flags of the European Union, the United Nations, and the Gulf Cooperation Council.
In close proximity to the Museum of Islamic Art Park, Flag Plaza will be a popular spot for Qataris to congregate and enjoy a variety of festivals, celebrations, and other activities.