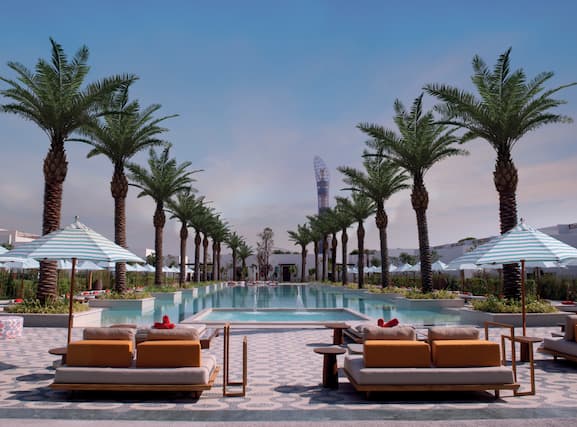 In Qatar, hotels are sprouting in an almost unending quantity. In the center of Doha, prestige, and privacy are combined. At Maysan Doha, immerse yourself in the most exclusive getaway. This magnificent urban resort, which is thirteen kilometers outside the city, is based on royal Qatari history but has been updated for contemporary life. Maysan is a specially crafted experience unlike any other, with opulent accommodations with private pools, 5-star gourmet fare, custom concierge services, and immersive local activities.
Restaurants
La Casa serves handmade, genuine Mediterranean food. At the Cigar Lounge, upscale outdoor dining is available along with your treasured foods and beverages. The best cigars, along with your adored foods and beverages, are offered at this magnificent outdoor restaurant. In a chic outdoor environment, Shisha Lounge provides well-known and distinctive food along with your favorite snacks.
Suites
This luxurious urban resort is based on Qatari royal history but has been updated for contemporary life. The hotel's guest rooms include a kitchenette and a TV with cable channels. A refrigerator is available in each guest room. Maysan is a tailored experience unlike any other, with opulent accommodations with private pools, delectable food, custom concierge services, and engaging local activities.
Spa
They provide customized spa treatments, such as Moroccan Hammam body nourishing with authentic style.
Special regulations
Please be aware that from 1 November 2022 to 23 January 2023, guests staying at the property are required to provide registration information, including their date of birth, nationality, gender, email address, passport number, passport issuing country/authority, and passport type, to the property as soon as possible after making a reservation. In order to obtain a visa for Qatar, visitors must also register with the local authorities (Hayya Card). After making a reservation, they will receive information on how to do so.
Location
The 5-star Maysan Doha is 10 minute walk from Aspire Park and is home to Lxr Hotels & Resorts, which provides laundry, valet parking, and front desk help around the clock. In order to explore the neighborhood, the hotel also offers vehicle rentals. Aspire Tower, a well-known location in Doha, is about 850 meters away. Wathnan Mall is a 10 to 15-minute walk from this hotel in Doha. The Doha airport is 30 kilometers distant and can be reached in around 26 minutes by vehicle from the property.