Business
Middle East ProcureTech Summit 2023: Embracing the Digital Future of Procurement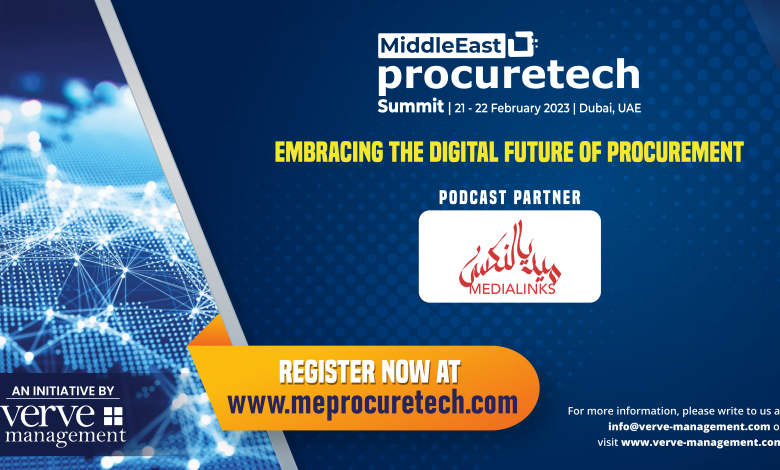 Dubai, UAE.
The growth of procurement within the region is on an uphill trajectory combined with the adoption of technology and supply chains. The market growth factors are the increasing need for procurement process automation and the rapid adoption of e-procurement technology. The rapid strides with which digital technology is being adopted by businesses are transforming the way they operate. From finance to procurement to marketing, digital technology empowers teams with better control over operations.
Verve Management is taking the lead with another premier initiative in the region, The Middle East ProcureTech Summit 2023. The summit devoted to a disruptive procurement sector will be unveiled on February 21–22, at Swissotel Al Murooj, Dubai, UAE.
At the summit, this year, will take a deep dive into the modified paradigm of the procurement industry, focused on the new technology adopted by the industry to change the procurement game. The summit aims to provide a platform for like-minded individuals to gather and discuss the new era of Digital Procurement with topics such as Cloud procurement, E-Procurement Solutions, and Supplier Relationship Management (SRM), to name a few.
Over the course of two ground-breaking days, the summit is setting out to headline experts and key leaders within the industry including:
Dirk Karl, Group Chief Procurement Officer, MTN
Waleed Saeed Al Saeedi, Director, Procurement and Supply Management, Department of Tourism and Culture (Abu Dhabi)
Rajkumar Adhya, Supply Chain Operations Director, AztraZeneca
Amadou Dioulde Diallo, CEO, DHL, Deutsche Post
Dr. Abdalla Abduljalil, Chief Contracts Specialist (Expert in Revenue, Expense Contracts and B.O.T, PPP), Dubai Academic Health Corporation
Tatjana Ozgoren, Director of Global Procurement – AMEA, PepsiCo
Shakti Arora, Chief Procurement Officer, RAK Ceramics PJSC
Heba Abdelhady, Chief Supply Chain Officer, Saudi German Health
Maytham Al-Khairulla, VP Procurement and Business Support, OSN
Amit Bhatia, Supply Chain Director – IMEA, LVMH Beauty
Shannon Hore, Senior VP- Procurement and Logistics, Abu Dhabi Airports
Stephen Rea, Chief Procurement Officer, Al Ghurair
Mohamed Samak, Global Procurement Director, Aramex International
Sam Achampong, Regional Director of CIPS MENA, CIPS (Dubai)
Shailen Shukla, Chief Logistics Officer, Mohamed Hareb Al Otaiba Group
Chamath Nawaratne, Vice President and Chief Procurement Officer, Air Liquide
Vineet Gupta, Chief Commercial Officer, Babyshop
Hon. Peter Gesper, SVP of IT, Noon.com
Remya Venugopalan, Director of Operations, International Modern Hospital
Engr. Ammar AlAboud, VP of Consuting & Research, Supply Chain and Procurement Society
Suhail Siddiqui, Procurement Director, Juma Al Majid for Electro – Mechanical Works
Sandeep Sharma, Director- Group Procurement and International Market Supply Chain, Alamar Foods- Domino's Pizza
Vishal Noronha, Group Head of Procurement, Gargash Group
Aslam Labeeb, Head of Supply Chain & IT, Gulf International
Brish Bhan Vaidya, Head of APAC Sourcing & Global Buying Center, UBER
Shashi Kiran, Group General Manager – Supply Chain, Jashanmal National Group
Huzefa Boxwala, Head of Supply Chain Innovation, Henkel Corporation
Sara Omer, Sales Director Middle East & Africa, iValua
Arnaud Malarde, Senior Product Marketing Manager, iValua
Prasanna Rajendran, Vice President – Head of Business, Kissflow,
Abhinav Suresh, Director and P&L Leader- Middle East and Africa, Locus
The Middle East ProcureTech Summit will be an invaluable opportunity to network with industry leaders, who will set out to delve into all of the latest technological advances in procurement to help drive businesses forward.
Middle East ProcureTech Summit 2023 is supported by the Chartered Institute of Procurement and Supply (CIPS), Supply Chain and Procurement Society (SCPS), and Supply Chain and Logistics Group (SCLG). The summit will be braced by the presence of some key industry leaders and solution providers like Ivalua, a leading provider of cloud-based Spend Management software, and Kissflow Procurement Cloud, a flexible source-to-pay platform for procurement teams to manage all their procurement spends in a single place.
The Middle East ProcureTech Excellence Awards 2023 will be held at the summit as part of the Middle East Procuretech Summit. The Awards will celebrate Procurement, Supply Chain, and Logistics leaders who have worked constantly towards improving disrupted supply chains through innovating and adopting advanced technology.
For registration and to participate in the event: [email protected]
For more information, please visit our website: www.meprocuretech.com
For media contact: Romer- +971586807876