Business
Qatar Vodafone awarded as fastest global mobile network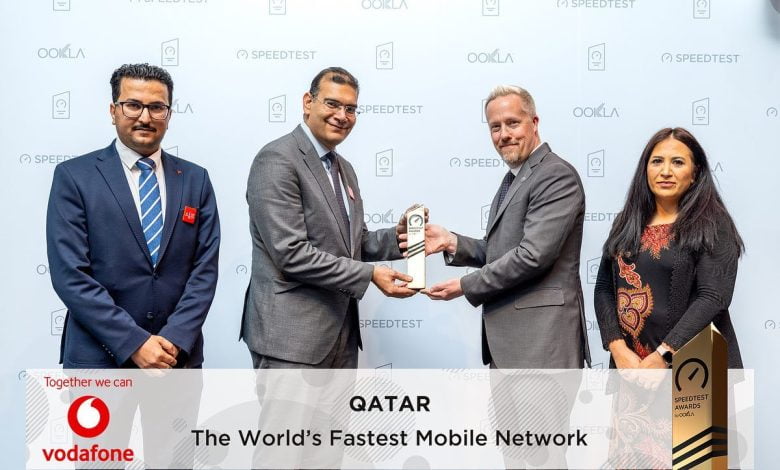 Vodafone Qatar has been announced as the fastest mobile operator worldwide for the third and fourth quarters of 2022, according to the Speedtest Awards presented by Ookla on February 5, 2023. The prestigious award was presented to Vodafone at Mobile World Congress (MWC) 2023 in Barcelona, Spain on February 28, where Ramy Boctor, CTO, and Mahday Al-Hebabi, Enterprise Business Director, represented the company. The award recognizes the exceptional internet performance and coverage of an elite group of network operators, based on a thorough analysis of data from millions of tests performed on Speedtest by users worldwide between July and December 2022. Vodafone Qatar led the rankings with a Speed Score™ of 238.56 points, far surpassing other mobile networks.
Investing in Network Infrastructure to Deliver First-Class Connectivity and Coverage
Ramy Boctor attributed Vodafone Qatar's success to the company's unwavering commitment to investing in its network infrastructure. He expressed his pride in achieving the recognition as the fastest mobile network in the world, calling it a significant milestone in the company's strategy that has been in progress since 2018. This achievement demonstrates Vodafone Qatar's ambition to provide first-class internet connectivity and coverage to its customers. The award reaffirms Qatar's position as a global leader in mobile internet connectivity and coverage and showcases the company's tireless efforts to drive the country's digital transformation agenda forward in line with the Qatar National Vision 2030.
Leading the Charge in Digital Innovation
As a recognized leader in technology and digital innovation, Vodafone Qatar has been instrumental in creating a digitally connected and digitally aware society through its robust network, smart solutions, and collaborative partnerships. Its efforts have greatly influenced Qatar's global standing in internet quality and efficiency.
About Vodafone Qatar
In 1982, while serving as Chairman of the Racal Radio Group, Gerald Whent had the foresight and courage to persuade the Racal Electronics Group Board to bid for the UK government's private sector cellular license. Whent played a crucial role in securing the successful bid, which led to the establishment of the Racal Telecomms Division. The name "Vodafone" was chosen to represent the company's offering of voice and data services over mobile phones. The Vodafone analogue network was launched on January 1, 1985, marking the UK's first-ever cellular network.
Vodafone Qatar P.Q.S.C. provides a diverse range of services, including voice, messaging, data, fixed communications, IoT, and ICT managed services, catering to both consumers and businesses in the State of Qatar. Since commencing commercial operations in 2009, Vodafone Qatar has amassed a customer base of 1.7 million mobile users as of March 31, 2021. The company's advanced network infrastructure is continuously expanding to include fiber connectivity, 5G technology, and a broad digital ecosystem, contributing to Qatar's ongoing development and success.